Tribes: Ascend Beta Begins Tomorrow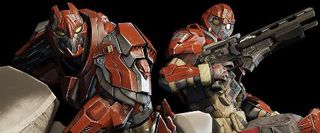 Hi-Rez Studios is about to begin a new phase of testing for their multiplayer shooter Tribes: Ascend. On Friday, they'll launch the closed beta and there are a couple ways for you to get in.
The closed beta will give players access to two classes to start: the Soldier and the Ranger. They can unlock 10 additional classes by playing the game. The beta also features two game modes and three drivable vehicles. Servers are located throughout North America, Europe and Australia.
Hi-Rez doesn't plan to wipe players' progress during testing, either. Any rank, classes, and skill progression you attained will carry over into closed beta as well as the official release. By testing the game, you'll have a leg up on the competition once the game launches to the public.
You can register for a chance at an invitation by heading to Tribes: Ascend's website. If you'd rather not play the odds, you can guarantee a spot in the beta by purchasing a Tribes: Ascend VIP Starter Bundle through that site. The Starter Bundle gives you permanent VIP status in the game, a 30-day Booster and 3000 Tribes Gold as well. It's currently being offered at a 33% discount.
Tribes: Ascend is a multiplayer-only continuation of theTribes franchise. It's the first game Hi-Rez will release in the series since acquiring the license. Like previous installments in the series, it features large outdoor maps, customizable equipment load-outs, and jetpacks.
Ascend will launch in the first quarter of 2012 on the PC. An Xbox 360 version was planned but is currently on hold.
Staff Writer at CinemaBlend.
Your Daily Blend of Entertainment News
Thank you for signing up to CinemaBlend. You will receive a verification email shortly.
There was a problem. Please refresh the page and try again.