Tribes: Ascend Open Beta Starts Friday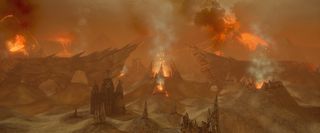 Hi-Rez Studios will be opening up their free-to-player shooter Tribes: Ascend this week. The open beta is scheduled to begin on Friday and will be accompanied by a major content update.
Ascend is based on the long-dormant Tribes series. Like its predecessors, it features high-paced, jetpack-heavy combat in expansive outdoor environments. The closed beta currently has three modes: Capture the Flag, Team Deathmatch and "kill the carrier" game type Rabbit.
The content patch will introduce a new mode called Arena Deathmatch in which two teams of five players face off in close quarters. Two maps specifically designed for Arena are included in the patch. Capture the Flag and Team Deathmatch will also get one new map apiece. The Soldier class will have new Proximity Grenade and Utility Pack grenades to strive for. Smaller bug fixes and balance changes are included as well.
"The Tribes: Ascend Closed Beta has exceeded our expectations," says Todd Harris, Hi-Rez Studios' Chief Operating Officer. "Over 300,000 players participated in the Closed Beta and the game has improved greatly based on community feedback. We are now excited to launch Open Beta this Friday. We have expanded capacity in North America, Europe, and Australia and added new local servers to support growing communities in Brazil and Asia."
If you're already in the closed beta, you'll be able to keep playing without interruption. All of your progression will be retained for the open beta.
Staff Writer at CinemaBlend.
Your Daily Blend of Entertainment News
Thank you for signing up to CinemaBlend. You will receive a verification email shortly.
There was a problem. Please refresh the page and try again.