Tt eSports Softball Theron Gaming Mouse Announced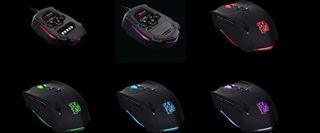 Popular and professional Taiwanese e-sports gamer, Softball, has joined forces with Tt eSports in co-designing a professional gaming-grade mouse called, Theron. The Theron offers high quality DPI and specially designed grips for the most dedicated RTS and hardcore FPS gamers.
For those of you scratching your heads about this Softball fellow and why on Earth you'd want to buy a mouse co-designed by him, here's a little backstory on this pro-gamer...
Yeah so there you have it. The guy is now popular enough to endorse a mouse and get other people gaming with it. The Theron sports up to 40 key macro combinations, 5 different profiles for various games and play-styles, offering gamers an amazing laser running on a 5600 DPI Engine, on-board 128kb memory storage 40-key macro storage, a rolling-rate switch button to increase or decrease roll-response timing by 125, 500 or 1000hz per cycle and 7 different colors of pause-break lighting effects to keep onlookers drooling with appreciation.
Softball had a few words of his own to share about the product, saying...
So there you have it, folks: if you aren't Asian but you want to game like one, just buy the Theron.
You can find out more about the Theron or Softball, or purchase the mouse for yourself, be sure to pay a visit to the Official Tt eSports Website
Staff Writer at CinemaBlend.
Your Daily Blend of Entertainment News
Thank you for signing up to CinemaBlend. You will receive a verification email shortly.
There was a problem. Please refresh the page and try again.