Unreal Engine 3 MMO Bless Gets New Website, Cinematic Trailer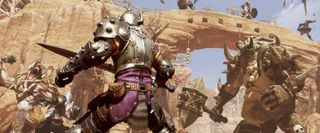 NeoWiz games revealed a new cinematic trailer and an official website for the Unreal Engine 3 powered MMO, Bless. Some of the minds working on the game are alumni from titles such as Lineage 2, Aion and TERA.
It's hard to tell if the cinematic is done all in-engine or not, but the trailer actually purposes to give gamers a strong idea of what to expect from the game itself, which mainly focuses on siege-based combat and territory control. That's right, two factions will be going head-to-head to control the land and it's up to players to pick a side and fight hard to win, or die hard trying.
One of the things that looks impressive about the game is that the visuals are really crisp, and the direction seems pretty clear. If this game is similar to the likes of Vindictus then it could definitely carve out its own niche as a worth-while MMO.
I'm most curious about how the actual in-game combat will play out. For now though, at least we have an idea of what to expect from the game and that it's not just another mob grinding, fetch-quest MMO.
You can keep up to date on Bless as it prepares for upcoming beta tests by visiting the Official Website.
Your Daily Blend of Entertainment News
Staff Writer at CinemaBlend.
Your Daily Blend of Entertainment News
Thank you for signing up to CinemaBlend. You will receive a verification email shortly.
There was a problem. Please refresh the page and try again.