Unreal Engine 4.6 Released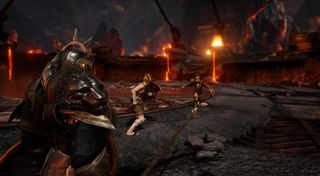 Epic Games sent out the news this morning letting gamers and game designers know that the Unreal Engine has recently been updated to version 4.6, featuring some really awesome upgrades, including the ability to make worlds 20km big all in one go with no extra loading required.
Unreal Engine 4.6 brings a brand new 3D user interface and widget component to make it easier to navigate menus, including added support for navigation via a joystick. Does this mean we could be seeing a miniature design port for consoles at some point? I doubt it, but features like this definitely open the door to do so in the future.
There's all new emissive materials that can be used to directly illuminate surrounding objects; there's also precomputed lighting and shadows for foliage and instanced meshes. Basically, easier-to-implement pre-baked shadows for trees, shrubs and grass.
There's a new demo recording feature to make it easier to share and record gameplay over the network, as well as a new web widget to enable developers to host web pages from inside the game. That's a pretty nifty software device.
Material layering has also been ramped up quite a bit, from 13 layers per material to 128 layers. Massive. This can help give objects and characters a ton more diversity and unique visualizations in the creative design process.
Multiplayer features have also been made available using the new Blueprint scripting toolset. As mentioned in the press release, there's no coding required. The Blueprint scripts were briefly discussed in a tools preview for the Unreal Engine 4 earlier in the year.
The one thing that I think is most impressive in this update is the ability to create worlds 20 kilometers large. Not only can worlds be larger than ever, but increased performance streaming for precomputed navigation data has been updated so levels and data can be loaded into and out of memory faster than ever. This doesn't make the Unreal Engine 4 a first choice for MMORPGs, but it definitely makes it a heck of a lot more convenient for making larger open-world titles with instanced areas.
The update also has easier workflow adjustments so coding is optimized, thinned out and simplified for those who put a lot of computational coding into their projects. Does this mean we'll see better optimization for games that are heavily physics-oriented or sports lots of independent A.I., routines and mechanisms? I guess we'll have to wait and see when projects start popping up following the release of Unreal Engine 4.6.
Epic Games and Unity Technologies have been fighting pretty hard in a stiff rivalry as the premier design engine for big and small studios alike. This latest update definitely makes the Unreal Engine look like a prime-time tool for beginners or professionals alike, but I don't know if it's still oriented around the indie design scene quite in the same way of the Unity Engine.
Nevertheless, you can check out the full update list for Epic's premier design engine suite by paying a visit to the official Unreal Engine website. Also, various pricing options are available for those working on different budget tiers.
Staff Writer at CinemaBlend.
Your Daily Blend of Entertainment News
Thank you for signing up to CinemaBlend. You will receive a verification email shortly.
There was a problem. Please refresh the page and try again.