Uwe Boll Wins Big At Razzies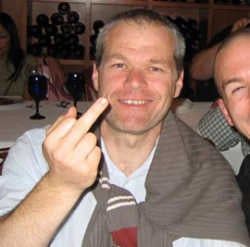 This weekend the Golden Raspberry Awards - or "Razzies" - were doled out to the worst movies of the year. Guess who took home a couple of the awards? None other than Uwe Boll, who directed two miserable video game adaptation films this year.
Boll took home the Worst Director Award for 1968: Tunnel Rats, In The Name of The King: A Dungeon Siege Tale, and Postal. The storylines of the Dungeon Siege and Postal video games were nothing special but they seem downright brilliant compared to Boll's adaptations. To Boll's credit, though, there was a scene in Postal where he gets shot in the genitals so he's not completely ignorant as to what audiences want.
In addition, Boll received an award for Worst Career Achievement and was dubbed "Germany's Answer to Ed Wood." It seems a little premature to give him a career achievement award now, though - he's still young and surely has a few more masterpieces up his sleeve. As far as video game films go, his adaptation of Far Cry was released in Europe in late 2008 and should hit the States this year if we're unlucky enough.
For the full list of Razzie winners, check out Cinema Blend's round-up.
Staff Writer at CinemaBlend.
Your Daily Blend of Entertainment News
Thank you for signing up to CinemaBlend. You will receive a verification email shortly.
There was a problem. Please refresh the page and try again.