Valve Adds Design Tools To Steam, Including GameMaker Studio, 3D-Coat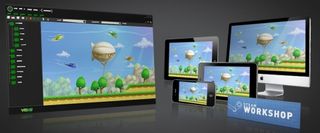 The new non-gaming software has launched on Steam right now. If you're into software design and you need cheap tools to build the game of your dreams, you can do so right now thanks to the new software section on Steam, where the first set of software tools have become available at a discounted rate.
Valve has added a number of software tools to the line-up of Steam, including GameMaker Studio so enthusiasts can start designing their own game and coding their ideas into a virtual reality. 3D-Coat so you can make all those wonderful characters and objects you've dreamt up but didn't have an affordable way of bringing them to life. ArtRage Studio Pro is available for painting and texture work, so your 3D objects will carry over the visual vibrance and evocative colors you've always wanted to display on your 3D models.
CameraBag is a photo manipulation toolset, perfect for those who want to do still-image cut-scenes or graphic design modification. Of course, there's the Source Filmmaker which enables you to create your own cut-scenes and movies, a perfect and free-to-use tool for giving your game life and a bit of a cinematic edge.
Last but not least are 3DMark 11 and 3DMark Vantage, two sets of applications for benchmarking and ensuring that your hardware is up to par for the kind of game you want to make and giving you an idea of the limits to which your system can be pushed.
All these tools are available right now, either for free or at a discounted rate. You can also save all your work to the Steam cloud space so you can either take the work with you across various workstations or keep a copy of everything in case your rig goes kaput.
Valve plans to fill out the section with additional software to help up-and-coming enthusiasts and game designers, so keep your eyes peeled for new software, soon. You can learn more by visiting the new software page on Steam.
Staff Writer at CinemaBlend.
Your Daily Blend of Entertainment News
Thank you for signing up to CinemaBlend. You will receive a verification email shortly.
There was a problem. Please refresh the page and try again.