Video Game Releases For 10/16 To 10/21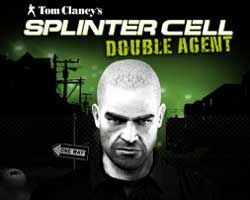 The upcoming (10/16 to 10/21) week has quality big titles and titles that will probably be very popular, but be lousy games. It's a potluck.
To start off the PS2 will be getting Rockstar's controversial Bully, which looks to be one of the best games of the year. Suprisingly, the game is actually less violent than people have been lead to believe. Destroy All Humans 2 continues the GTA style fun of the first one, only now you get to go after the hippies of the 60's. It doesn't break any new ground, but that is not a problem for once, since it never intends to be anything more than what it is.
Splinter Cell 4: Double Agent heads to the Xbox 360, where fans of stealth action will go ga-ga over having a new game with Sam Fisher to play. Basically, Sam has to go undercover at a prison in order to get information, and the game deals with moral issues- how far you want to take Sam into the world of crime is a major part of the game. Tiger Woods PGA Pro Tour 07 also heads to the 360, and should prove to be as popular as the previous games have been. EA's biggest hurdle will be how well they handle adding the extra "next-gen" content to the game without making it too much of a break with the past, and without making it too quirky for it's own good.
PC gamers will also have some major titles coming their way. Microsoft's Flight Simulator X will hit stores, a proven commodity for the more sophisticated and adult market. Not only will the game itself sell, but its many mods and expansions create a virtual cottage industry around it. Age of Empires III: Warchiefs will expand upon the AoE III's game, adding in the various Native American Indian tribes as military-states of their own. This is a good thing, since they actually outnumbered many of the European armies on the American continent at the time frame. Battlefield 2142 will satiate any FPS fan's multiplayer dreams for the next few months at the very least. It will essentially be a futuristic version of the Battlefield games, with new weapons, environments, and strategies for players to frag each other in. Lastly, Sid Meier's Railroads! is also coming out, and anything with his name attached to it does really well. Think Railroad Tycoon style games, only with the Civilization IV engine utilized for that style of a game.
For the handheld systems it's a mixed bag of releases. The PSP will have the new Ace Combat game, Ace Combat X Skies of Deception as well as WTF: Work Time Fun, while the DS and GBA will have Contact and Summon Night 2: A Swordcraft Story. Most of these titles will come in under the radar, and aren't well known. I expect most of them to have a strong showing, mainly because they fit their niche markets very well. The Ace Combat game will be the newest attempt to translate the popular flight combat series to handhelds, so far that hasn't worked with anything else. WTF does not stand for what you think it stands for- it means "Work Time Fun", and it is a puzzle-brainteaser style of game. Its title might drag in a few fans, but it might be too esoteric for some. Contact is probably the most Japanese game of them all- it experiments with a lot of RPG and platform elements, and has been getting pretty interesting reviews. Summon Night 2 will please the hardcore RPG fans the most, since that's basically what it is.
For multi-platform releases, it will be a busy week- titles like Family Guy, The Sims 2: Pets, SpongeBob SquarePants: Creatures From the Krusty Krab, and Justice League Heroes will be out. Now, most of these games are riding on their titles, so it's worth being careful about the actual quality of the game. Out of all of them the Justice League game seems to be the most interesting, partially because I'm a huge DC comics fan, and also because it's using the Baldur's Gate: Dark Alliance game engine. This game was designed with the X-Men: Legends franchise in mind, and it shows. I'm hoping that we can finally get a DC comics game worth talking about, because frankly, Marvel's games have been generally wiping the floor with them for years now. Fair warning: it doesn't look like the game has multiplayer, at least for the console versions.
One last note- there are a lot of games headed your way destined to make easy money, despite their quality. Made for a certain market, Barbie, Family Guy, Flushed Away, Strawberry Shortcake, and SpongeBob entris will definitely nail their niche. So, while I doubt anyone reading this is going to go out and buy any of them, game companies desperately need their audience order to stay in the black. If you want the next "big thing" then big business needs this. Just don't ask me to play Strawberry Shortcake. That would be evil.
Will "hot titles" like Splinter Cell 4 and Bully take the top spot, or will it be the likes of Family Guy and SpongeBob winning out? Time will tell. Here's a rundown of the 10/16 to 10/21 week's releases:
PS2:
Bully
Cabela's African Safari
Destroy All Humans 2
Eureka Seven Vol 1: The New Wave
Family Guy
Flushed Away
Jampack Volume 15
Justice League Heroes
Kim Possible: What's the Switch?
The Sims 2: Pets
SpongeBob SquarePants: Creature From the Krusty Krab
Tokobot Plus: Mysteries of the Karakuri
PSP:
Ace Combat X: Skies of Deception
Family Guy
FIFA Soccer 07
Ford Bold Moves Street Racing
Scooby Doo! Who's Watching Who?
WTF: Work Time Fun
XBOX 360:
Splinter Cell: Double Agent (regular and limited)
Tiger Woods PGA Tour 07
XBOX:
Destroy All Humans 2
Family Guy
Justice League Heroes
PC Games:
Age of Empires III: Warchiefs
Barbie: 12 Dancing Princesses
Battlefield 2142
Brigade E5: New Jagged Union
Devil May Cry 3: Dante's Awakening Special Edition
D.I.R.T: Origin of the Species
Evidence: Missing 2
Face Factory 2
Flight Simulator X (regular and Deluxe)
The Guild 2
Jaws Unleashed
Jewel Quest Solitare
Jumbo 2500 Game Pack
Lineage II: The Epic Collection
Nancy Drew: The Creature of Kapu
Panzer Command
Sid Meier's Civilization Chronicles
Sid Meier's Railroads!
The Sims 2: Pets
Super Entertainment 10-Pack
UFO Extra Terrestrials
Zoo Tycoon 2: Marine Mania
Zoo Tycoon 2: Zookeeper Collection
GAMECUBE:
Flushed Away
The Sims 2: Pets
SpongeBob SquarePants: Creature From the Krusty Krab
DS:
Contact
Flushed Away
Justice League Heroes
Nintendogs (Dalmatian)
Scooby Doo! Who's Watching Who?
SpongeBob SquarePants: Creature From the Krusty Krab
Strawberry Shortcake Strawberryland
GBA:
Flushed Away
Hot Wheels Compliation
Justice League Heroes
Noddy: A Day in Toyland
SpongeBob SquarePants: Creature From the Krusty Krab
The Suite Life of Zack & Cody: Tipton Caper
Summon Night: Swordcraft Story 2
Your Daily Blend of Entertainment News
Thank you for signing up to CinemaBlend. You will receive a verification email shortly.
There was a problem. Please refresh the page and try again.