Video Games Good For Old People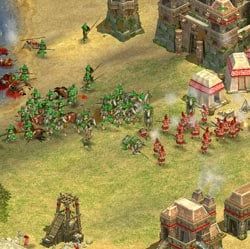 Looking for a gift that will entertain your grandpa and stave off his dementia? Well, you don't have to buy him another book of crossword puzzles. Get him a video game!
According to a study of forty adults of 60-70 years of age at the University of Illinois at Urbana-Champaign (via Reuters), subjects who played real-time strategy game Rise of Nations over a month saw an improvement in several cognitive tests. Specifically, they were shown to have better memory, reasoning, and multi-tasking ability than the control group who didn't play the game.
Though in the past studies have shown that mental and physical activity can boost cognitive function in seniors, this is the first study to show video games having such an effect. Senior researcher Dr. Arthur F. Kramer would like to see further research examine whether other strategy games would have a similar effect and if this boost in cognition persists over time.
There's a lot of other questions this study raises: would games outside the strategy genre make you sharper, too? The subjects who learned to play the game only played it about 23 hours over a month, or less than an hour a day. Would the effects level off if they played more? Could they have played for less time and received the same benefits? It's a lot to chew over.
Staff Writer at CinemaBlend.
Your Daily Blend of Entertainment News
Thank you for signing up to CinemaBlend. You will receive a verification email shortly.
There was a problem. Please refresh the page and try again.