Virtual Families Is A Casual Alternative To The Sims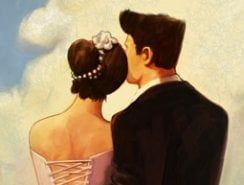 Some people might consider The Sims a purely casual game. I beg the differ: intense time management, slap-fights, rushing to keep a house clean while getting ready to get to work on time…that's not casual that's hardcore. With that in mind, indie developer Last Day of Work has announced that gamers can have all the fun of the The Sims, but in the comfort of a casual title called Virtual Families.
"Our past successes have allowed us to really cut loose and make the game we always wanted to make." said Arthur Humphrey, founder of Last Day of Work. "This game is not a trivial game, and it is not about micromanaging. It is about life, in all of its drama and glory."
Sounds entertaining. For those of you who don't know, this is using the same framework as Last Day of Work's Virtual Villagers games. And for those of you who don't know what that is, Virtual Villagers was about maintaining a tribe in real-time; feeding them, finding resources and managing the tribe's livelihood. It's a similar concept for Virtual Families, only the island and tribe members have been replaced with a house setting, gardens and varied selection of manageable families.
The game is due out on April 22nd of this year for the budget price of $19.95. For more information you can visit the Official Virtual Families Website. And be sure to stay tuned in with Blend Games for more news and information regarding all things gaming.
Your Daily Blend of Entertainment News
Staff Writer at CinemaBlend.