Wait, There's TWO Spore Expansions On the Way?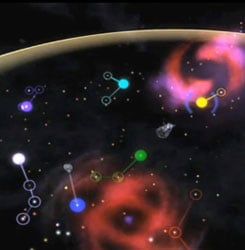 Today Electronic Arts confirmed that the Creepy & Cute Parts Pack expansion pack for Spore will be available on November 18th. In the same press release, they also revealed that Maxis is working on a second expansion.
First, some clarification on the Creepy & Cute Parts content. The expansion will come with "more than 100 new creature-building components themed in two distinct styles—charming, cartoon-esque creatures and scary, monster-like creatures". In addition to the new body parts, you'll also get new "paint options, animations, backgrounds and more."
While the first expansion is focused on the Creature phase of Spore, the second expansion is for the Space phase. The unnamed expansion, due in Spring 2009, will allow players' creatures to beam down to new planets to explore and complete missions. Players will also get a new Adventure Creator so they can create missions of their own and share them with friends.
Creepy & Cute will cost $19.99. No mention of pricing on the second expansion but it does sound more substantial than the first one so don't be surprised if it costs more. Also, Blend Games just contacted EA and they stated that you won't need to have the Parts Pack installed to install the space expansion. Additionally, the EA spokesperson noted you can use the Parts Pack with the standalone Creature Creator (in case you were wondering).
Staff Writer at CinemaBlend.
Your Daily Blend of Entertainment News
Thank you for signing up to CinemaBlend. You will receive a verification email shortly.
There was a problem. Please refresh the page and try again.