War Inc. Battlezone Coming To Impulse, Heads Into Beta Phase 2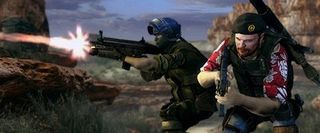 Free-to-play games continue to move forward in the market, capturing some of the core gamers from other markets by offering top-notch, intense, persistent worlds with edge-of-your-seat gameplay action. One of those games happens to be War Inc. Battlezone.
Online Warmongers announced today that their free-to-play third-person shooter is entering the second phase of open beta and is also available on Impulse. The game has tighter controls, improved animations and graphics and additional gameplay features to keep gamers coming back for more.
Sergey Titov, CEO of Online Warmongers commented in the press release, saying...
The eSports mode is where you enter into the playing field and a Korean sniper team plants one between your eyes before the game finishes loading. So yeah...come prepared if you plan on dabbling in the eSports arenas.
A number of features have also been implemented to make the gameplay experience more streamlined and user-friendly, as well as more competitive for those who needed more direct response while on the battlefield. In other words, the game is a lot closer to playing like Gears of War than say, Star Wars: Battlefront 1.
Starting December 7th War Inc. will be available on Impulse with a special bonus package available for those who get the game off of Impulse. You can look for it over at the Official Impulse Website. For further information on the updates and new additions to the game, feel free to visit the Official War Inc. Battlezone Site.
Your Daily Blend of Entertainment News
Staff Writer at CinemaBlend.