Warhammer 40,000: Space Marine, Dawn Of War Now 66% Off On Steam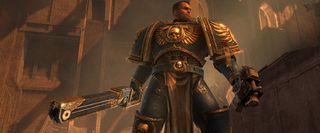 It's a good weekend for aspiring Orks and Space Marines. Digital gaming store Steam has slashed prices on all of the Warhammer 40,000 games in its library from now until Monday at 10am PST.
The discount encompasses the Dawn of War real-time strategy games and their expansions, as well as the third-person shooter Space Marine. Marine downloadable content is on sale as well. The only exceptions are the Iron Hands, Death Guard Champion, and Dreadnought DLC packs.
All the games and DLC on sale are being offered at a 66% discount. That's a pretty surprising mark-down for Marine, considering that the game was released just a few short months ago. The discount brings Marine down to $16.99 for the weekend.
Dawn of War II: Retribution's multiplayer will be free to play until Sunday at 1PM PST. You can download it and dive in right away. If you decide to purchase Retribution, it will only set you back $10.19.
Staff Writer at CinemaBlend.
Your Daily Blend of Entertainment News
Thank you for signing up to CinemaBlend. You will receive a verification email shortly.
There was a problem. Please refresh the page and try again.