Warhammer 40K: Dawn Of War II Deploying Ultramarine DLC Soon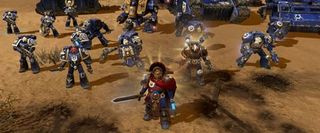 Relic Entertainment plans to include new multiplayer DLC for Warhammer 40,000K: Dawn of War II: Retribution in a future update. Today the developers gave gamers a look at the new unit skins they'll be adding to the real-time strategy game.
"Ultramarines heroes have a distinctly Roman Empire influenced look that makes them stand out from the rank and file," said Relic artist in describing one of the new skins. "For the Force Commander I wanted to combine elements from some of the miniatures with a distinct Dawn of War II aesthetic. The robe-like cape added an air of the warrior to him, and the distinct helmet leaves no question as to who is in command. The eagle-head backpack vents, while not exclusively Ultramarines, fit his design so well they had to be added. His shoulder pauldrons are inspired by the armour worn by Space Marine's Captain Titus."
Space Marine, if you're not aware, is the WH40K third-person action game in development at Relic Entertainment. The new skins are a sort of cross-promotion for the game, I guess. The new skins will be released on August 16th, a couple weeks before Marine's release on the PS3, Xbox 360 and PC.
No price has been announced for the DLC yet.
Your Daily Blend of Entertainment News
Staff Writer at CinemaBlend.