Wartune: Hall Of Heroes Brings The Fight To iOS And Android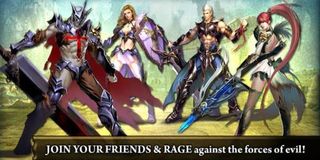 Wartune: Hall of Heroes has officially invaded mobile platforms in the west, bringing its free-to-play RPG battle gameplay to iOS and Android devices. Suit up, mages, knights and archers, because it's time to go to war.
Co-developed by Hoolai Games and 7Road and published by Kabam, Wartune: Hall of Heroes offers a unique take on the massively multiplayer online roleplaying (MMO) formula, specially built for play on iPhone, iPad and Google Play devices.
"Wartune: Hall of Heroes pushes the performance envelope with its uniquely deep and compelling storyline that's interwoven with the game's natural progression," reads a launch announcement from Kabam. "Players are immediately immersed in a fantasy world where hundreds of players can fight together simultaneously to defeat enemies and monsters, quest for more territory, farm and fortify holdings and collect magical stones to enhance the armor and weapons of their hero."
When Wartune originally launched in China, it quickly became one of the top 10 grossing apps in the region. The game proper is available free of charge, and players can unlock epic gear and level up their toons by reaching in-game milestones. Or, as has become common with these types of games, you can speed up that process by purchasing boosts and gear via an in-game marketplace. For those who think this all sounds mighty familiar, it's because Wartune was originally developed for PC and has been drawing players by the thousands for two years now. The mobile version, however, has been optimized for its new platform.
"As a lead-up to its mobile release, the game has been significantly retooled for mobile platforms, a months-long effort that saw Kabam collaborating directly with their counterparts in China," reads the launch announcement. "Their goal was to ensure that Wartune: Hall of Heroes mobile players have the same experience as those using laptop or desktop computers, an effort that required reworking the user interface to replace keyboard controls and mouse clicks with swipes and gestures that are native to mobile devices."
As for the game itself, it doesn't sound like Wartune will be lacking in content. There is a solo campaign mode available, as well as a variety of PvP options including three-person squad battles or up to 30-player guild battles. That sounds pretty impressive for a mobile game and, luckily, you won't have to wait to find out if the game is right for you. You can swipe Wartune: Hall of Heroes right now, free of charge, on iTunes (opens in new tab) or the Google Play Store.
Staff Writer for CinemaBlend.
Your Daily Blend of Entertainment News
Thank you for signing up to CinemaBlend. You will receive a verification email shortly.
There was a problem. Please refresh the page and try again.