Watch The Red Bull Battle Grounds 2014 Grand Finals Right Here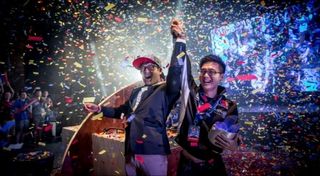 Red Bull's Battle Grounds is drawing to a close this year with the grand finals taking place in Washington D.C., this weekend between September 20th and September 21st at the Lincoln Theater. You can see the intense eSports action unfold in real-time with the embed right here at Gaming Blend.
Red Bull has been pulling out all the stops with their foray into the eSports arena. They've focused mostly on pushing for inclusion within the media circuits via StarCraft II competitions. However, the company has been doing a lot to give gamers a behind-the-scenes look at how a lot of these events come together, as well as some of the names and faces that make up for the prestige and popularity of electronic sports entertainment.
This past Thursday, Red Bull hosted a "Business of eSports Panel", with questions being volleyed at panelists partaking in the event at the Georgetown University. The panel was moderated by Sean "Day9" Plott, and there were even questions being asked in real-time via Twitter and by active Redditors over on the /r/Starcraft thread. You can check out the playlist below if you have some time to spare.
Now it's time to talk a bit about the big event this weekend.
Players from around the world will gather to duke it out after making it through the various challenges of Red Bull's Battle Ground leading up to the grand finale.
The roster includes the following eSports competitors.
Player Roster
Invited Players:
· Won "PartinG" Lee Sak (Winner of last year's Red Bull Battle Grounds New York City)
· Kim Yoo "sOs" Jin (Runner-up of last year's Red Bull Battle Grounds New York City)
Qualified Players (and their Red Bull winning qualifier):
· Sasha "Scarlett" Hostyn (North America)
· Choi "Bomber" Ji Sung (Atlanta)
· Cho "Trap" Sung Ho (Wildcard)
· Park "DongRaeGu" Soo Ho (Global)
· Kim "Cure" Doh Wook (Online Open)
· Choi "Polt" Seong Hun (Detroit)
The finals this weekend is a culmination of competitive enthusiasm built up over the past summer that started with the North American event back in June and then progressed from there, with the Wildcard event, the Global battle, a 128-player showdown in Atlanta and the final stop at Detroit before the big showdown in Washington D.C.
You can learn more about the event, the competitors and eSports by paying a visit to Red Bull's official website.
Staff Writer at CinemaBlend.
Your Daily Blend of Entertainment News
Thank you for signing up to CinemaBlend. You will receive a verification email shortly.
There was a problem. Please refresh the page and try again.