What The Ark: Survival Evolved New Year's Update Includes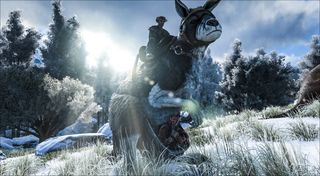 One of the big surprises added to Ark: Survival Evolved to celebrate the new year is a giant, dangerous, far-leaping prehistoric kangaroo. The official name is the Procoptodon, and players are able to capture and ride this magnificent beast into battle... and hopefully victory.
PC Gamer posted up a quick video snippet that Studio Wildcard posted for public consumption. The video is only a half minute long but features the Procoptodon in action, carrying up to two players – one who rides it and a second who sits in the pouch firing weapons. Check it out below.
The Procoptodon is actually based on a real-life dinosaur, but the real-life version wasn't quite as big as the one featured in Studio Wildcard's MMO survival title.
The new dino can be tamed and used as a form of transportation, giving gamers an opportunity to run around in the wild with a friend, shooting at other dinosaurs and killing other players.
Over on the Steam update page, the developers note that the Procoptodon update is being accompanied by a new year's celebration, where a giant New Year's Eve ball will descend and unleash a special surprise for the inhabits of Ark: Survival Evolved.
The game has been a rocket buster when it comes to sales. They've moved more than 2.3 million copies over the course of the past six months, according to SteamSpy. The game was one of the biggest sellers during the Steam Summer Sale and made Studio Wildcard tens of millions of dollars within a very short time span.
Now 2.3 million copies may not seem like a whole lot but keep in mind that this game was released into Early Access. It's not fully finished or done with development, yet.
Ark has been made available in the Xbox One's Game Preview program, as part of the ID@Xbox initiative headed up by Chris Charla. The preview program has opened up Ark: Survival Evolved to an even broader audience on home consoles, and Studio Wildcard has no plans on stopping there.
The game will fully launch on PC, PS4 and Xbox in June of 2016, so the team is consistently and steadily pumping out new content and prepping the game for its final release.
The only thing I hope they add next is vehicles... it would be pretty cool catching dinosaurs while driving around in a jeep with a couple of friends. Heck, it would be like role-playing Jurassic Park.
So far, though, Studio Wildcard has maintained a consistent vision of what's being added to the game. They frequently toss in a new dinosaur every month or every other month to keep the community entertained and engaged. The frequent updates, transparent development schedule and YouTube-centric gameplay has made Ark: Survival Evolved a breakout hit of 2015. You can pick up a digital copy of the title right now from Steam during the Winter Sale for 40% off the normal price at only $17.99. You can start enjoying the Procoptodon in the latest update right now. For more info feel free to visit the official website.
Staff Writer at CinemaBlend.