Wonderland Online Lets Players Build Their Dream House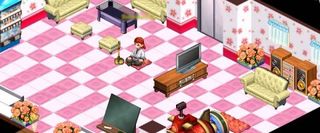 Building your very own house has been a feature that has existed in quite a few MMOs for quite some time. Well, for fans of Wonderland Online will be able to partake in some creative decorating antics now that the option has become available to build your very own dream house in the game.
As stated in the press release…
Of course, creating rooms and building your house is just the beginning. Wonderland Online encourages players to go full-Sims, with interior decorating gimmicks galore. From sofas and chairs to beds and windows, just about every aspect of a house that gamers find entertaining to rearrange, modify and customize, can be altered in Wonderland Online.
Added to this, to help promote diversity and originality, players can trade, sell and buy new furnishings for their home via the tent sales. Gamers interested in exploring their inner interior decorator can do so over at the Official Wonderland Online Website.
Wonderland Home Building System Features:
Cute Dolls
Make the bedroom adorable with a cute elk doll for the bed.
Katana Display Panel & Tatami
Longing for a taste of the orient? Create a Japanese room complete with an imposing Katana Display Panel and then lay out an elegant Tatami to complete the look!
Two Great Sofa's
Luxuriate in style with the iconic white sofa or a supple soft leather sofa made from White Sheepskin. The Italian style craftsmanship and elegant design make these sofa designs winner's - for couch potatoes and interior designers alike!
Two Elegant Light's
Bring some light to the dark spaces of the house with the latest in stylish light fixtures. For a more European feel, install some Western Classic Lights, or bring the Far East home with the Eastern Classic Lights!
Red and Blue Windows
Brighten things up and let some fresh air in with these new window designs. These windows are an upgrade from previous models because they come complete with stylish curtains! Choose from Red or Blue and then enjoy the view!
Staff Writer at CinemaBlend.
Your Daily Blend of Entertainment News
Thank you for signing up to CinemaBlend. You will receive a verification email shortly.
There was a problem. Please refresh the page and try again.