World Record Set With Overclocked Corsair Extreme DDR3 Memory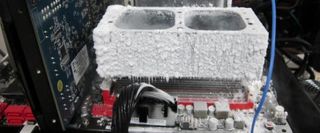 Breaking records with RAM doesn't seem like it would be all that exciting, until you toss in one huge cooling platform cooled by liquid nitrogen, a supped up motherboard, a 4 GHz CPU and RAM exceeding 1733 MHz.
While video memory can reach and exceed 1.7 GHz without much of a fuss, it gets a lot harder trying to hit those numbers using 1GB of RAM, or in this case, Corsair Dominator GT CMGTX6 DDR3 RAM.
Hardcopy picked up on the news via the official Corsair Blog, where Corsair employee and world champion overclocker, Jake Crimmins, announced that he once again has broken the record of pushing RAM beyond any safe means of normal usage for the average computer user.
With one bad, bad mofo of a liquid nitrogen cooling system and an AMD Bulldozer CPU at the core, Jake managed to overclock the Corsair Dominator RAM to 11-13-13-31 timings at an impressive 1733.8 MHz, beating out his previous record of 1619.4 MHz at 11-13-12-31 timing offset. Nice work Jake, you've made computer nerds the world around proud…but that probably won't help any of them get dates.
Nevertheless, impressive as a feat as it is to overclock the RAM that high you'll probably want to get all the nitty-gritty details on how Jake accomplished this and his exact toolset by paying a visit to the Official Corsair Blog. One thing is for sure, this news will definitely help boost sales for Corsair, especially with Black Friday right around the corner.
Staff Writer at CinemaBlend.
Your Daily Blend of Entertainment News
Thank you for signing up to CinemaBlend. You will receive a verification email shortly.
There was a problem. Please refresh the page and try again.