World War I Gold Edition Now Available For Digital Download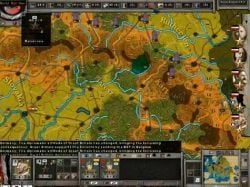 Paradox Interactive and AGEOD have announced that the indie-developed World War I strategy game is currently available at all major digital distributors. The game puts players in the pivotal role of making war tactics between the detrimental time period of 1914 to 1918.
The game features turn-based solutions, eight playable nations, 10 scenarios and five campaigns as well as a multiplayer feature for those who enjoy fighting friends for victory.
You can check out a full list of the game's features below or visit the Official Website for more info. And in case you forgot, it's available for purchase across major digital download portals.
World War I Gold Edition Features:
• A new north-south-oriented map with a more vibrant look, including new graphic elements for submarine warfare
• Battle Logs to read up on battles and an Army Roster to find out force composition
• Stack, Army, and Fleet management window- New 1915 scenario that includes all theaters
• War Plan and Diplomat management window now allows for administration of all leader powers in a single place.
Gold Edition Improvements:
• Most event popups can now be browsed more easily, with the ability to quickly center the map on related areas
• WW1 Configuration Tool allows selection of either the new Gold map or old map mode
• Map interface has been improved in key areas to allow for quick access to important information
• Many AI improvements have been introduced, making the game much more challenging
• Includes all player-created fixes since 2008, improving gameplay and experience; also, all previous changes since launch are included in both versions
Staff Writer at CinemaBlend.
Your Daily Blend of Entertainment News
Thank you for signing up to CinemaBlend. You will receive a verification email shortly.
There was a problem. Please refresh the page and try again.