World Of Warcraft Goes Italian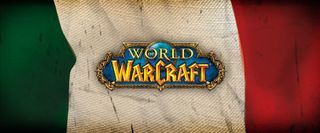 Blizzard's behemoth MMORPG World of Warcraft has spread to a new territory: Italy. A localized Italian version of the game is now available throughout Europe to all interested players.
WoW will now feature Italian-specific realms as well. Any players with a European version of the game will be able to transfer to them. Blizzard will allow these transfers for free, but only for a short period of time.
The Italian version will also have the same features as other languages. A new mirror of WoW's website will deliver game news in Italian. Furthermore, customer service will be available in Italian via phone, Internet, and in-game chat.
Italian is the eleventh officially supported language in WoW. It's the seventh language supported in Europe, joining English, French, German, Spanish, Russian, and Brazilian Portuguese.
All current European WoW subscribers can play the game in Italian by downloading a free language pack through the game's client program. Boxed copies of the Italian version will arrive on September 25th, the same time that the expansion pack Mists of Pandaria launches worldwide. To celebrate the Italian launch of the game, Blizzard has re-dubbed the Pandaria cinematic trailer in that language.
Your Daily Blend of Entertainment News
Staff Writer at CinemaBlend.