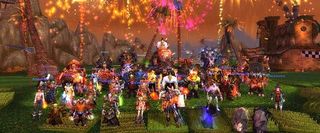 If your World of Warcraft guild wants to seek out a better realm, soon you won't have to start the guild over from scratch. Blizzard is planning to launch a paid guild transfer service.
With this service, a guild master will be able to switch the guild to a new server with its bank, name, and ranks intact. Individual members will need to pay for their own server transfers, though. Upon transferring to the guild's new home, they'll be automatically added to the guild and receive their old rank and reputation.
Blizzard also plans to offer a guild name change service. This should prove useful to folks who find out they misspelled their guild name or discover how quickly Charlie Sheen references become dated. Like the transfers, the name change probably cost you something but the price isn't clear yet.
These new service would've been pointless up until the release of the recent Cataclysm expansion. With this expansion, guilds now earn levels and unlock rewards over time. Players must build up their "guild reputation" over time in order to access these rewards. Therefore, starting a guild over from square one would've been a pain in the ass.
"As with all of the features and services we offer, we intend to incorporate the guild relocation service in a way that will not disrupt the game play experience," said Blizzard. "Please note that this feature will require extensive internal testing, so you may see bits and pieces of the service appear on the public test realms."
Your Daily Blend of Entertainment News
Staff Writer at CinemaBlend.