World Of Warcraft Patch 6.0 Will Introduce Brawler's Guild Season 2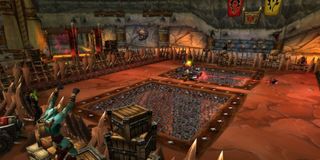 World of Warcraft's pre-Warlords of Draenor patch will bring big changes to the Brawler's Guild. Blizzard revealed today that the patch's release will mark the start of Season 2 for the arena.
The Brawler's Guild lets players fight one-on-one against a range of A.I. enemies. Defeating these bosses increases the player's rank and allows them to access new rewards. These rewards include Achievements, an epic ring and a Mushan mount.
Once Patch 6.0 goes live, Blizzard says, the Achievements from Season 1 of the Brawler's Guild will no longer be unlockable. They'll be replaced by a new set of Season 2 Achievements. Any rewards you earned can still be purchased. The ring mentioned earlier will be updated so that every character class and spec can make use of it.
Season 2 doesn't actually add any new bosses to the Brawler's Guild. It does, however, change the progression back to 8 ranks instead of 10 and mix up the order of these bosses. For example, Bruce the Crocodile will become a rank 5 boss. Furthermore, some of the encounters will be balanced for level 100, the new level cap in Warlords of Draenor.
Blizzard also says that the Brawler's Guild will have an impact on the Garrison you create in Draenor. Meatball, the gnoll boss from the Guild, can be recruited for your Garrison after you've defeated him.
One thing that won't change about the Brawler's Guild is its invite-only policy. To join the Brawler's Guild you currently need to either get an invitation from a friend, buy one off the Black Market Auction House, or find one on a rare spawn. There will be "new opportunities" to find these invites in Draenor's new zones. If you already got an invitation in Season 1, though, it'll work for Season 2.
The Brawler's Guild was one of the most interesting features Blizzard added in Mists of Pandaria. It gives both casual and hardcore players alike something to do without a group. The rewards aren't that tremendous but it's a nice "quick-play" activity. It's great to see that Blizzard plans to keep supporting this feature in Warlords of Draenor.
Patch 6.0 is a massive update that will lay the groundwork for Warlords of Draenor. You can check out its many features right now on the Public Test Realm. Blizzard is now letting players preload the files for the live version of the patch, too.
Image 1 of 2
Staff Writer at CinemaBlend.