Worlds Adrift Is Getting A Ton Of Community Features, Get The Details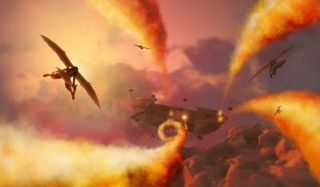 Worlds Adrift was already looking like an impressive physics-based MMO, but now the team at Bossa Studios have announced a bunch of community features that should make the game even more fun to play with a group of friends.
Bossa Studios sent out a press release today that dives into the Alliances features of Worlds Adrift. As you might have guessed, Alliances are basically guilds that reward players for teaming up and tackling challenges collectively. Or, as the press release puts it, Alliances "form the bedrock on which players will build their own stories and friendships."
The first interesting thing about Alliances is that, even though Worlds Adrift has not launched yet, you can already sign up to join an Alliance and get to work on pooling your world knowledge. You can already chat and get organized with your Alliance and, once Worlds Adrift arrives later this year, your Alliance and in-game companions will already be set up and ready to roll.
Worlds Adrift is an extremely ambitious MMO that basically takes a lot of the mechanics and reward loops you know from games like World of Warcraft or Final Fantasy XIV and plugs them into a build-it-yourself world more akin to Minecraft or Terraria.
According to the official site, everything in Worlds Adrift is governed by physics and exists in a persistent, reactive world. If you cut down a tree or defeat a monster and just walk away, the object will lay there until someone interacts with it. The cool example listed on the official site is that if a player brings down an airship, the vehicle will crash and remain on the ground, rusting over time, until someone comes and harvests its materials. Pretty rad, right?
Obviously, you can't compare a game to Minecraft if there isn't a crafting system, and Worlds Adrift offers plenty of opportunities for players to make all sorts of useful items, vehicles and the like.
When it comes to cooperative play, today's announcement makes it clear that players will be able to create their own Alliance or join an existing one. Doing so will grant access to unique tools that allow Alliances to communicate and recruit. Alliances will have access to their own forum, as well as create and customize an official Alliance Emblem. When the game launches, Alliance abilities will be further expanded.
And if that wasn't enough incentive to create or join an Alliance, Bossa Studios is giving away an Alienware Alpha gaming machine and other prizes for people who take the time to join up with other players nice and early. They've even provided a nice tutorial video working through all of the details, which you can check out below.
Staff Writer for CinemaBlend.
Your Daily Blend of Entertainment News
Thank you for signing up to CinemaBlend. You will receive a verification email shortly.
There was a problem. Please refresh the page and try again.