You Won't Need A Heroes Of The Storm Beta Key Soon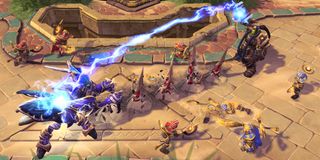 The closed beta for Blizzard's MOBA Heroes of the Storm is winding down. Today the studio announced that the game's open beta and official release will both arrive in the coming months.
Heroes of the Storm's beta is currently limited to people who won invites through giveaways, were randomly selected by Blizzard after opting in, or bought Founder's Packs. However, once the open beta starts on May 19th, everyone will be able to freely download the game and start playing. The same will be true when the game formally launches on June 2nd.
"Heroes of the Storm will launch with more than 30 playable Heroes, over 130 Skins, 14 steadfast mounts, and 7 dynamic Battlegrounds, each with unique challenges to overcome—and even more Heroes, Skins, Mounts, and Battlegrounds are on the way!" Blizzard announced on the game's website. "Over the last year we've also implemented over 430 different color Tints across our Heroes, Skins, and Mounts to help you customize your look so you can brawl in style. These color options will continue to be unlockable for free as you play your Heroes and seek to master them on field of battle."
"Rest assured that we'll have even more exciting Heroes developments in the coming months."
Storm's roster of heroes and villains from various Blizzard games currently stands at 35. The most recent addition was World of Warcraft's Sylvanas. The character selection screen has 20 empty slots right now so Blizzard's clearly interested in adding a lot more. The various universes they've created over the years have plenty of potential characters to use.
If you're already in the closed beta, the transition to open beta and official release won't change much. It's possible that Blizzard will debut some big patch on either occasion but the game's largely going to stay the same. There are no more account wipes planned so any progress you have now will carry over into the next phases of the game.
Blizzard is planning to hold a pre-launch event on June 1st in London. They haven't announced what this event will entail. It's going to be livestreamed through so maybe we'll see a tournament, a reveal of some upcoming features, or both.
Heroes of the Storm is Blizzard's answer to hugely popular competitive games Dota 2's and League of Legends. Two teams of five players face off in objective-based battles, with the ultimate goal of knocking out the enemy team's base. Heroes makes a lot of hate-it-or-love-it changes to the usual MOBA formula, such as shared experience and shorter matches. Furthermore, The game has several more Battlegrounds than competing games, and places more importance on the secondary objectives in these maps.
Staff Writer at CinemaBlend.