eDimensional Now Shipping AudioFX Pro 5.1 Gaming Headset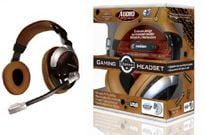 Gamers never have a shortage in available gaming gear. Tritton and Otto both recently released some great headphone headsets and now eDimensional is joining the pack with their Audio ProFX 5+1 Gaming Headset. Ben Heck, renown modder, even annexed his own style and influence onto eDimensional's latest headset, and it's now available for purchase.
As the first ever Benjamin Heckendorn product to hit the retail circuit, eDimensional's AudioFX Pro5+1 Gaming Headset includes some kick-butt force-feedback, bass-boosting and an adjustable, noise-canceling microphone. Wicked eh? Yeah, darn-right it is.
"We've been astounded by the record number of pre-orders for the new AudioFX Pro 5+1, surpassing our already optimistic expectations," says eDimensional CEO Michael Epstein. "We're pleased to be able to deliver this uniquely stylish, high performance headset to our hard-core gaming customers and provide worldwide purchasing options for a BenHeck original. We're also working quickly to produce more units in order to meet current demand without disappointing sell-outs or backorders."
You can check out a list of features for the AudioFX Pro 5+1 Gaming Headset below or head to the official eDimensional Website for more info. The AudioFX Pro 5+1 retails for $79.95.
• USB 2.0 Plug & Play connection with integrated 5.1 surround sound decoder
• Critically acclaimed force feedback technology with integrated subwoofer for dramatically enhanced situational awareness and increased bass effects
• Unique styling and packaging designed by BenHeck
• In-line volume control, vibration control and new instant mic mute button
• New ambidextrous mic swivel with reinforced bearings
• Improved microphone sensitivity and filtering for incredibly clear voice transmission – Teamspeak Certified
• New oval ear cup design for immersive audio, external noise blockage and improved "around the ear" comfort
• New and improved LED level meter design for custom gaming look
• Fully adjustable headband plus new pivoting ear cups
• Included software for full audio position customization, equalization and special effects
Staff Writer at CinemaBlend.
Your Daily Blend of Entertainment News
Thank you for signing up to CinemaBlend. You will receive a verification email shortly.
There was a problem. Please refresh the page and try again.