inFamous Writer Releases Zombie Western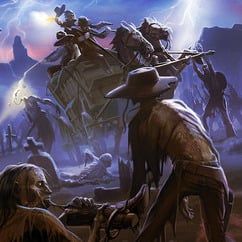 William Harms, the writer of inFamous and Supreme Commander, has released his first novel. It's called Dead or Alive and, like every good story, has lots of zombies.
Dead stars two outlaws in the Wild West who are on the run after a successful stage coach robbery. They hide out in a remote frontier town, only to learn that it's been overrun by the undead. The brothers must team up with the surviving townspeople to wipe out this menace.
The novel, published by CreateSpace, can be found at Amazon (opens in new tab). It's currently priced at $12.95.
Staff Writer at CinemaBlend.
Your Daily Blend of Entertainment News
Thank you for signing up to CinemaBlend. You will receive a verification email shortly.
There was a problem. Please refresh the page and try again.