Sarah Michelle Gellar Explains How Wolf Pack's Werewolves Are Similar To Buffy's Vampires
Vampires and werewolves, oh my!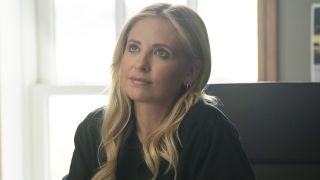 (Image credit: Paramount+)
Sarah Michelle Gellar is no stranger to roles in the sci-fi/fantasy/horror genres; just ask her characters in I Know What You Did Last Summer, Scooby-Doo, and of course, Buffy the Vampire Slayer. Gellar's latest role on Paramount+'s Wolf Pack sees her back in the supernatural realm, only instead of mostly dealing with Buffy's vampires, she is dealing with the new show's werewolves. According to the actress, the two species are actually fairly similar.
The Wolf Pack star spoke with CinemaBlend's Laura Hurley at SCAD TVfest in Atlanta, talking all about the werewolf drama. When asked about new fans potentially discovering her through Wolf Pack's werewolves as opposed to Buffy's vampires, Gellar had a very poignant answer:
Of course, most people know SMG from her beloved roles of the late '90s/early 2000s, but there may come a day when she's recognized more for being the Wolf Pack arson investigator than the character who was slaying vampires across network TV from 1997 - 2003. The Paramount+ show is showcasing her to a whole new generation of fans of the supernatural genre, after all! She certainly has a point about vampires and werewolves as fitting metaphors for real-life fears.
Sarah Michelle Gellar was first announced to return to her supernatural roots in the summer of 2022, and she even gave advice to her young co-stars. If anyone would know something about starring on a supernatural drama, it would be Gellar. Even though there are some similarities with the two shows, the actress did initially warn Buffy fans to be patient, as not all twists were obvious from the jump. Along with some attention-grabbing Wolf Pack promotion, the series is arguably one of the best shows on Paramount+ right now, and I wouldn't be surprised if a Season 2 happens.
Meanwhile, as Wolf Pack joins Buffy and many other popular shows and movies on Sarah Michelle Gellar's resume, an upcoming sequel to I Know What You Did Last Summer has been announced. Since Gellar's Helen Shivers is dead, it's unlikely she could return, but hardcore fans of anything horror or supernatural know that just because someone died doesn't mean they stay dead. Just look at Buffy Summers!
No matter how different or similar the monsters on Buffy the Vampire Slayer and Wolf Pack are, it's clear that they are still scary, and Sarah Michelle Gellar can still kick their butt. If you want to watch her go up against a werewolf threat, new episodes of Wolf Pack drop Thursdays with a Paramount+ subscription as part of the 2023 TV schedule. Or if vampires are more your speed, Buffy is streaming with a Hulu subscription.
Your Daily Blend of Entertainment News
Passionate writer. Obsessed with anything and everything entertainment, specifically movies and television. Can get easily attached to fictional characters.