Following The Super Bowl Rihanna's Next Televised Performance Has Been Confirmed
We get to see Rihanna perform again!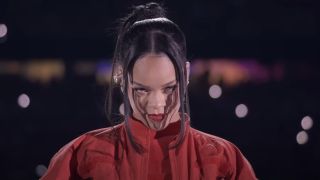 (Image credit: NFL)
Rihanna fans rejoice, because, after years of having no new music or performances from the singer, we are about to get her second televised performance of the year! After a thrilling Super Bowl halftime show, the pop star will take the stage once again, but this time it will be at the Oscars to perform her nominated song featured in Black Panther: Wakanda Forever.
The performance of "Lift Me Up" will mark Rihanna's second performance this year, and it will be the first time she sings the Black Panther: Wakanda Forever song live. It's standard for the Best Original Song nominees to perform their tunes during the ceremony, however, sometimes there are exceptions. Luckily, Rihanna is not one of those, as Variety confirmed her performance, and the executive producers of this year's Academy Awards announced she will be bringing her talents back to the televised stage.
This news comes after not only Rihanna's big return to performing but also her surprise pregnancy announcement that came during her Super Bowl set. So, the singer and her baby will be going back up on stage very soon, and what's especially exciting about her upcoming performance is how different it is bound to be from her big halftime show.
"Lift Me Up" is an emotional ballad featured during the end credits of Black Panther: Wakanda Forever. Based on past Oscar performances, I could totally see Rihanna taking the stage in an elegant gown, singing the song, and honoring the film and Chadwick Boseman. Due to the fact that the song is a slow and heart-wrenching ballad, I don't think we'll be seeing the energetic, and fast-paced performance we got during the biggest football game of the year. However, I'm also positive Rihanna's next appearance on stage will be just as captivating.
How To Watch Black Panther: Wakanda Forever
Stream Black Panther: Wakanda Forever with a Disney+ subscription.
What adds a little extra bit of meaning to Rihanna taking the stage at the Oscars next month is the fact that "Lift Me Up" marked her return to music. The "Umbrella" singer hadn't released new music since 2016, and she came back to help write and perform this moving song featured in Black Panther: Wakanda Forever.
Rihanna's song for Black Panther's sequel is the singer's first Academy Award nod, and she is included on the list of 2023 Oscar nominees alongside performers who created songs for the films Top Gun: Maverick, Tell it Like a Woman, RRR and Everything Everywhere All at Once.
While all these performances are bound to be fantastic, knowing Rihanna's history with live music, it's clear she is going to absolutely kill it on the Oscar stage while she sings the song that brought her back into music. I mean, just watching her Super Bowl halftime show alone, it's clear this pop star is at the top of her game, and it's so exciting to know that we'll get to see her perform again so soon.
So, we should all say thank you to Ryan Coogler for convincing Rihanna to come back to music for Black Panther 2. That's because not only did we get a moving song for this important MCU movie, we will also now get to see this iconic musician perform on TV again after that epic Super Bowl set.
To see Rihanna perform "Lift Me Up" live be sure to check out the 2023 TV schedule, and be ready to tune into the Oscars on Sunday, March 12 at 8 p.m. ET on ABC.
Your Daily Blend of Entertainment News
Riley Utley is a Weekend Editor at CinemaBlend. She spent many years working in local journalism across the country writing about art, news and sports. One of her favorite films is When Harry Met Sally and she walks around constantly quoting Ted Lasso.