Jake Gyllenhaal Showed Off His Ripped Physique Amid Filming For Road House Remake, And The Internet Is Losing Its Mind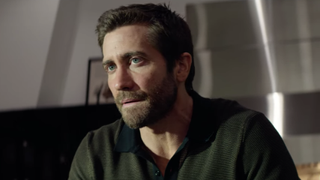 (Image credit: Universal Pictures)
Jake Gyllenhaal has always been a good-looking, in-shape guy who people swoon over. However, we got a whole new (hot) look from the actor as he took off his shirt and flexed for a UFC weigh-in while filming the Road House remake. Understandably, when this video of the Southpaw star emerged on the internet, it went viral (like the time clip of the actor forgetting he was in a movie with Dennis Quaid did), and many lost their minds over the actor's ripped physique, and I gotta say, same.
Gyllenhaal and his Road House co-star, and UFC icon Conor McGregor were both at the 285's ceremonial weigh-ins because they were filming a scene for the upcoming movie, according to MMA Fighting. In the video, the actor whipped off his sweatshirt, showing off his six-pack and impeccable physique as he stood on the scale, and flexed. ESPN MMA posted a video of Gyllenhaal showing up at the UFC weigh-in, and you can check out the actor's ripped physique here:
Jake Gyllenhaal filmed a scene for his upcoming Roadhouse movie at #UFC285🍿 pic.twitter.com/3ZRHLXL0tyMarch 4, 2023
How could you not swoon, get hyped or freak out over Gyllenhaal, he looks amazing. Many took to Twitter to share their enthusiasm about the actor's transformation, posting things like @Bkgyllenhaal who reposted the video, and wrote:
Another user, @serpentarq was on a similar wavelength, posting a thirsty Tweet, that read:
While the internet is full of thirst tweets, like this last one, there are also a ton of posts admiring the actor's ability to transform. Chamatkar Sandhu threw it back to one of Gyllenhaal's best movies Southpaw, noting the actor's transformation for the 2015 boxing movie, posting;
Others were simply in shock by Gyllenhaal's confident performance, and stunning body, posting things like what Bussin' With The Boys uploaded:
Many are also understandably nervous about this movie since it's a remake of an '80s classic. However, Shea Serrano explained in a retweet of Gyllenhaal's video that:
There has been a bit of apprehension toward the remake of the '89 Patrick Swayze-led action flick. However, after it started filming, and this video of Gyllenhaal it seems like the viewers are starting to get hyped for this remake.
While we don't know when the remake of Road House will come out, we do know from this video that Gyllenhaal came ready to fight in this movie, and look amazing doing it. Other than this little clip, and the cast, we don't know much about the anticipated remake. So, make sure to stay tuned to the 2023 movie schedule for updates about Road House's release.
Your Daily Blend of Entertainment News
Riley Utley is a Weekend Editor at CinemaBlend. She spent many years working in local journalism across the country writing about art, news and sports. One of her favorite films is When Harry Met Sally and she walks around constantly quoting Ted Lasso.