Violent Night 2: 6 Things I'd Love To See In The Sequel
Time for some more season's beatings.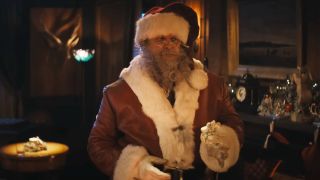 (Image credit: Universal)
I'm ready for some season's beatings – part two!
When Violent Night released in December 2022, I was all in to watch Santa Claus beat down some bad guys. I've seen so many different iterations of Santa at this point that another Rated R-version didn't seem like it was going to phase me. But then David Harbour took on the role and suddenly, he's become one of my favorite versions of Santa ever.
And now, two months later, it's been confirmed that Violent Night is getting the sequel that I have been begging for since first seeing this movie. While not much is known about the upcoming sequel, there are plenty of things that I would love to see, including more Christmas movie references. Out of everything, here are six things that I would love to see in Violent Night 2.
Obviously David Harbour To Come Back As Santa
The only reason I put this as my number one on here is that it hasn't quite technically been confirmed yet that David Harbour is set to be back as Santa. But this isn't The Santa Clause – or even The Santa Clauses. Harbour's version of Santa can't quite be so easily replaced. I mean, you can't really get better than him in any shape or form.
But obviously I'd love to see him back in this role. Granted, David Harbour has plenty of stuff coming up that might keep him busy, from new releases on streaming platforms such as We Have A Ghost to the highly anticipated final season of Stranger Things. Even so, I would love for Harbour to don the red suit again and smash up some people with that good old sledgehammer of his.
It wouldn't quite be Violent Night without the violent man himself, so let's get to it.
Even Bloodier Action
I know. It's hard to even think that there could be even more action after the first Violent Night. There were so many fight scenes in that movie that trying to pick just one that truly knocks it out of the park when it comes to gore is hard (even though I have done that). But if we're going to make this movie Rated R, let's take full advantage of it.
I want to see more creative ways to die, more intense fight scenes, even more one on ones. I feel like in Violent Night, we were given very little in terms of one on ones when it came to Santa. But what we did get was epic.
Sure we got a bunch of fight scenes of him against several people which were also awesome, but for some reason, I liked the stakes of the one on one more, and I find those a lot more entertaining than Santa just bludgeoning a bunch of different people at one.
A Whole New Family To Follow
Okay, so hear me out. I really do like the Violent Night cast. They were all incredibly talented and had an awesome range of movies and television shows that they have been in, from the Twilight franchise all the way to The Tomorrow War. But I have to say, I would love to follow a different family this time around.
If we're being blatantly honest, the only person I truly remembered the most from Violent Night was Trudy, and that's because she was so kind and helped Santa in many ways – plus, she also built terrifying booby traps, Home Alone style, so she has my love there. But the rest of that family was so unlikeable, good God.
Yes, I know that's the point. They're the top 1%, of course they're going to be that way. But I think the solution would just be to not do a totally rich family next time around and focus on a simple family instead. It was great for the plot of this film, but for the next, maybe settle on something different.
Mrs. Claus Please!
I am dying to know who Mrs. Claus is in this universe. We obviously know that Santa is married, as he brought up his wife multiple times throughout the movie. We even see that she sent him his old hammer at the end of Violent Night, showing that she very much does exist, but we never actually got to see her.
This makes me wonder who might play here if she appears in Violent Night 2, which honestly could be a major possibility. David Harbour has had his casting ideas on who he would cast. I personally would be fine with literally anyone as long as she is just as badass as Santa is.
I mean, imagine both Santa and Mrs. Claus beating down intruders to the North Pole? Oh my God, that's the sequel right there. I need to write this down.
I'd Also Love To See This Version Of The North Pole
Dude. I need to know if Santa's elves are as violent as him. You have no idea the amount of time I have spent thinking about who Santa's helpers are.
But on a real note, I am seriously interested in seeing this world's version of the North Pole. Is it freezing cold and features tiny little elves like more versions of the fantasy place? Or are there human characters who are helping Santa out with toys? Are they just as violent as this Santa? Are they even more violent? It's killing me not to know.
I would also love to see his workshop. We see throughout the movie that Santa is getting tired of giving kids video games and gift cards and all the same crap every year. Does he even have a workshop? Is it just an Amazon storefront at this point? I'm so curious.
The Potential For A Cinematic Universe Of Holiday Characters
I mean, who doesn't want a universe of imaginary creatures played by the "daddies" of Hollywood?
If you're wondering what I'm referring to, I'm talking about this interview from Digital Spy. Talking about sequel ideas for Violent Night 2, David Harbour talked about his ideas for a possible universe of fantasy characters within the world of Violent Night, and this was what he had to say:
Yes. All the yeses. I would give anything to see Pedro Pascal play the Easter Bunny after watching him in both The Last of Us as well as The Mandalorian Season 3. And Oscar Isaac as the Tooth Fairy sounds like a great idea as much as it sounds silly.
I mean, if Violent Night 2 just became DreamWorks' Rise of the Guardians, I'd be completely okay.
While we don't know when Violent Night 2 is going to come out or whether or not we'll see any other known holiday characters appear, I am excited for it either way. Until then, I will just keep watching it over and over because I can't get enough of David Harbour's version of Santa.
Your Daily Blend of Entertainment News
Big nerd and lover of Game of Thrones/A Song of Ice and Fire. Will forever hate season eight. Superhero and horror geek. And please don't debate me on The Last of Us 2, it was amazing!