Ben Mendelsohn In Talks To Join Jake Gyllenhaal For Mississippi Grind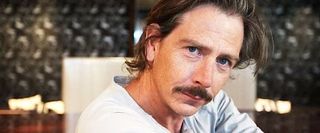 Aussie actor Ben Mendelsohn is a "that guy" on the rise. You might not know his name, but the Animal Kingdom star has been steadily making his way into American titles like Killing Them Softly, The Dark Knight Rises and Derek Cianfrance's eagerly awaited follow-up to Blue Valentine, The Place Beyond the Pines. Now the eye-catching supporting player is on the verge of becoming a Stateside leading man in the indie drama Mississippi Grind.
Written and directed by Anna Boden and Ryan Fleck, the film will center on a down and out forty-something gambler, who teams up with a younger gambling addict on a road trip through the Southern U.S. in hopes of bettering their luck. Jake Gyllenhaal will produce and is in talks to star as the younger lead, and Variety reports Mendelsohn is currently in negotiations for the other lead.
There's no doubt the project seems promising for Mendelsohn. For one, it would step him into the leading man niche here in the U.S. Secondly, Gyllenhaal is a hot commodity again thanks to his stirring performance in the critically celebrated cop drama End of Watch. And third, Boden and Fleck are the duo behind Half Nelson and It's Kind of a Funny Story, films that won their stars praise in niche-busting roles.
However, this isn't the only lead role on Mendelsohn's horizon, as he's already slated to star in How to Catch a Monster, the directorial debut of his The Place Beyond the Pines' co-star Ryan Gosling. It's unclear when either project will lens. But whether or not he signs on to Mississippi Grind, expect to see more of Mendelsohn soon.
Staff writer at CinemaBlend.
Your Daily Blend of Entertainment News
Thank you for signing up to CinemaBlend. You will receive a verification email shortly.
There was a problem. Please refresh the page and try again.