Every Hugh Jackman Movie In Which He Plays Wolverine, Ranked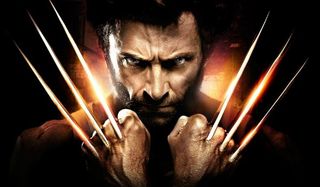 Wolverine has been one of the most popular X-Men characters since he was introduced in the comics in 1974, but his fame skyrocketed when he first seen played by Hugh Jackman in 2000. Since the, he's become one of pop culture's most prominent superheroes, and 16 years after the first X-Men movie came out, Jackman is still going strong as the character. Unfortunately for fans of Jackman's portrayal, his time as Wolverine is about to wrap up.
Hugh Jackman is reprising Wolverine one last time next year in Wolverine 3, but last week, it was confirmed that he'll appear in X-Men: Apocalypse in a small, but crucial, role. With Jackman's tenure as Wolverine winding down, we've decided to rank his appearances as the clawed mutant from worst to best going by how well he was used in each movie. That means every covering X-Men-related movie that's been released so far except for Deadpool. That said, we will give an honorable mention for Wade Wilson not only commenting about fondling Wolverine's "nice pair of criminals down unda'," but also taping a People Magazine cutout of Hugh Jackman's face under his mask.
X-Men: First Class
Don't get us wrong, we loved Wolverine's cameo in X-Men: First Class. Since a PG-13 movie is only allowed one f-bomb (maybe two if they're lucky), that needs to be used wisely, and it doesn't get much better than Wolverine telling Charles Xavier and Erik Lensherr to go fuck themselves when they try to recruit him for their team. It was a clever way of getting him to interact with them without screwing up the continuity of their meeting in X-Men. However, Wolverine is only in X-Men: First Class for less than a minute, and while it was great to see him, that small of a cameo doesn't trump a whole movie. That's fine, because X-Men: First Class was never supposed to be Wolverine-centric. This was just a fun nod towards the franchise's main character.
X-Men Origins: Wolverine
After three X-Men movies, the series jumped back in time to finally show Wolverine's origin, i.e. how he got the metal claws and what he was up to before he got the metal claws. You'd think that be when we'd see Wolverine at his finest, but unfortunately that wasn't the case. Hugh Jackman's performance in X-Men Origins: Wolverine was fine, but there wasn't anything exceptional about it. His best moments came when he was feuding with Sabretooth, but other than that, it always felt like he was simply going through the motions. On top of that, the story itself and nearly every other supporting character were ill-conceived (those adamantium bullets are especially infuriating), making X-Men Origins: Wolverine arguably the worst of all the X-Men-related movies. On the bright side, at least the opening sequence of James (Wolverine's original name) and Victor fighting in four wars was great to watch.
X-Men: The Last Stand
X-Men: The Last Stand may not have expanded on Wolverine's past, but Logan was still front and center while the team dealt with a mutant "cure" hitting the market and Jean Grey's transformation into the Phoenix. Although Wolverine was around for most of the action scenes got some cool moments (like pulling off the Fastball Special with Colossus), but there was barely any character development for him. Charles Xavier's death and being forced to kill Jean Grey were the two emotional gut punches to him, and it was interesting to see a more vulnerable side of him. Besides those, it was business as usual for Wolverine, which is fine when he's essentially serving as a living weapon, but from a character standpoint, he just wasn't that interesting. Besides just Wolverine, the movie as a whole felt like a mess with too much packed into less than two hours.
The Wolverine
Following the subpar X-Men Origins: Wolverine, Wolverine got some spinoff redemption in 2013's The Wolverine. Adapting Chris Claremont and Frank Miller's 1982 Wolverine limited series, the movie followed Wolverine batting samurai, Yakuza and even a villainous mutant in Japan, all while he continued struggling with Jean Grey's death. Besides seeing Wolverine perhaps at his most savage (especially if you watch the Unleashed Extended Edition), it was great to see Wolverine get some real distance from the X-Men-related elements in his life, making this story feel truly self-contained. It also finally provided some real stakes by taking away Wolverine's healing factor, albeit temporarily, since this time around, there was a chance he could trust die. Many agree that The Wolverine's third act feels more cartoonish compared to the rest of the movie, but overall, this spinoff adventure was a much more satisfying solo Wolverine adventure, and hopefully Wolverine 3 will take the best aspects of this movie and improve from there.
X-Men: Days of Future Past
Whether or not you agree with the decision to let Wolverine go back in time rather than Kitty Pryde in the original story, Wolverine definitely acted as a great bridge between the original X-Men movies and the "First Class" series in X-Men: Days of Future Past. Desperate to erase the Sentinel-ridden future, Wolverine's mind was sent back to his body in 1973, where he then got in contact with the "First Class" protagonists and tried to stop Mystique setting off the apocalyptic chain of events. Besides seeing more awesome Wolverine action (though only with bone claws again rather than the adamantium-covered ones), fans were treated to Wolverine mentoring James McCoy's Charles Xavier, rather than vice-versa as it was with Patrick Stewart's Xavier. Seeing him as the teacher showed that while he does still have those anger issues, he has indeed matured and developed as a character over the series.
X-Men
2000's X-Men was the movie that introduced Wolverine to the people who never read the comics or watched the '90s X-Men animated series. Here we met Wolverine as a drifter who has no recollection of his past life other than the name Logan and a pair of dog-tags. Directionless, he soon meets another lost mutant, Rogue, and after they're both targeted by Magneto's Brotherhood, they join the X-Men, which finally gives Wolverine some purpose. Wolverine essentially served as the audience's eyes during the movie as they were introduced to the wider world of mutants and the social stigma surrounding them. We also caught brief glimpses of where Wolverine originally came from thanks to Charles Xavier's telepathy, but this movie accomplished its main goal: showing non-comic book fans just how much of a badass Wolverine is, and this was just the start!
X2: X-Men United
13 years after this release, X2: X-Men United is still widely considered to be the best X-Men movie, and much of that has to do with its Wolverine-centric focus. After brief teases in X-Men, the sequel finally delved into Wolverine's past through William Stryker, the man in charge of the project that covered Logan's skeleton in adamantium. The movie followed him and the other X-Men (along with Magneto and Mystique) working to rescue Charles Xavier, Cyclops and the kidnapped students and prevent Stryker from killing every mutant on the planet. However, during all this, Wolverine with these new revelations about his past. His memories didn't completely return by the end of the movie, but he realized that he belonged with the X-Men, leading to him refusing Stryker's offer to reveal everything that had happened to him and leaving the man who hurt him to die. The movie, without a doubt, provided Wolverine his best moments of character development.
Your Daily Blend of Entertainment News
Connoisseur of Marvel, DC, Star Wars, John Wick, MonsterVerse and Doctor Who lore. He's aware he looks like Harry Potter and Clark Kent.
Your Daily Blend of Entertainment News
Thank you for signing up to CinemaBlend. You will receive a verification email shortly.
There was a problem. Please refresh the page and try again.