Now Streaming: Netflix Instant Alternatives To Hunger Games, Dumb And Dumber To, And Beyond The Lights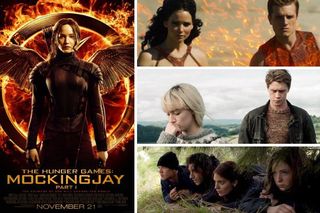 With so many titles to choose from, Netflix Instant's library can be overwhelming. So we bring you this biweekly column as a tool to cut through the clutter by highlighting some now streaming titles that pair well with the latest theatrical releases.
Looking to Hunger Games: Mockingjay - Part 1, Dumb and Dumber To and Beyond The Lights for inspiration, we've pulled together a selection of female-fronted dystopian dramas, moron-centric comedies, and African-American-fronted romantic dramas.
The Hunger Games: Mockingjay - Part 1
Having survived The Quarter Quell, Katniss finds herself at the center of a brewing revolution between District 13 and The Capitol. Jennifer Lawrence, Josh Hutcherson, Liam Hemsworth, Woody Harrelson and Elizabeth Banks star; Francis Lawrence directs. Read our review here.
For more stories of teen girls thriving despite the incredible odds set against them in dark dystopias, check out these three dramas from around the globe.
The Hunger Games: Catching Fire (2013) Refresh yourself on the trials and triumphs of author Suzanne Collins' Katniss Everdeen, winner of The Hunger Games and reluctant revolutionary. While she and Peeta travel Panem in their "Victor's Tour," the Capitol's tyranny becomes something these two can no longer ignore. And when their whole world is watching, all they have to depend on is each other. Jennifer Lawrence, Josh Hutcherson, and Woody Harrelson star, Francis Lawrence directs.
How I Live Now (2013) Based on the novel Meg Rosoff, this drama follows American teen Daisy as a trip to her English cousin's country home becomes a battle for survival when a world war descends like a dark cloud. Love and loyalty sustain her. Saoirse Ronan, Tom Holland, and George MacKay star; Kevin Macdonald directs.
Tomorrow, When The War Began (2010) Based on John Marsden's novel, this Australian offering centers on seven high schoolers who come home from a camping trip to discover their nation has been invaded. Ellie Linton (Caitlin Stasey) and her friends team up to fight back. Rachel Hurd-Wood, Lincoln Lewis, Deniz Akdeniz, Phoebe Tonkin, Chris Pang and Ashleigh Cummings co-star; Stuart Beattie directs.
Dumb and Dumber To
20 years later, Harry discovers he has a long lost daughter. So he teams up with Lloyd for a roadtrip to find her! Jim Carrey and Jeff Daniels star; Bobby Farrelly and Peter Farrelly direct. Read our review here.
For more outlandish adventures with super stupid heroes, enjoy this collection of kooky comedies that boast more of Harry and Lloyd, a fat guy in a little coat, and some men in tights!
Dumb and Dumber (1994) When Lloyd believes an abandoned suitcase might be the key to his dreamgirl's heart, he and his best friend Harry set off on a cross country journey to return it to her. Jim Carrey and Jeff Daniels star; Bobby Farrelly and Peter Farrelly direct.
Tommy Boy (1995) Chris Farley and David Spade star in this beloved buddy comedy as a dopey party animal and his snarky colleague on a mission to save their tanking business. Bo Derek, Brian Dennehy, and Dan Aykroyd co-star; Peter Segal directs.
Robin Hood: Men in Tights (1993) Inspired by the classic tale of Robin Hood and his Merry Men, Mel Brooks spins a slapstick-studded spoof about a gentleman turned rebel who becomes a hero to those oppressed by the nepharious Prince John. Cary Elwes, Richard Lewis, Roger Rees star; Mel Brooks directs.
Beyond the Lights
Noni is a pop star on the rise, but the pressures put on her by her stage mother and demanding record execs is pushing her to the brink. Might her only salvation be her burgeoning relationship with a cop who met her at her darkest moment? Gugu Mbatha-Raw, Nate Parker, and Minnie Driver star; Gina Prince-Bythewood directs. Read our review here.
For more memorable romances fronted by dazzling black stars, check out this trio that promises tales of one-night-stands, players, and lusty Los Angelenos.
A Good Day to Be Black & Sexy (2007) This Sundance selected drama explores love and sex in the black community of Los Angeles through six vignettes all set within the same day. Kathryn Taylor, Brandon Valley Jones, Chonte Harris, Marcuis Harris, LaKeisha Blackwell, Mylika Davis, Allen Maldonado, Jerome Hawkins, Natalia Morris and Alisa Sherrod star; Dennis Dortch directs.
Boomerang (1992) Eddie Murphy stars as a powerful executive who is notorious womanizer. But when he meets his new boss Jaqueline, an even bigger player than himself, this ladies man begins to second-guess his lifestyle. Robin Givens co-stars; Reginald Hudlin directs.
Medicine for Melancholy (2008) After a forgettable one night stand, two San Franciscans stumble into a conversation and a day-long date that suggests their awkward introduction could be the start of something special. Wyatt Cenac and Tracey Heggins star; Barry Jenkins directs.
For even more selections, check out our Now Streaming archive.
Your Daily Blend of Entertainment News
Staff writer at CinemaBlend.