Scarlett Johansson Becomes A Porn Star?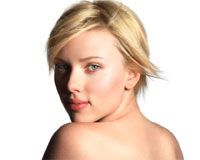 Scarlett Johansson in a biopic about uber-porn star Jenna Jameson. Would that be something that might interest you? Ok, realistically there's almost no way it will ever actually happen, but Jenna Jameson is currently pushing a film adaptation of her book "How to Make Love Like a Porn Star: A Cautionary Tale". To generate a little heat for the project, she spoke to FHM and told them that she wants Scarlett Johansson to play her.
Jenna says, "We're looking hopefully at Scarlett Johansson. She's my choice. I think she's beautiful."
That's really where the story begins and ends. Maybe they've talked to Scarlett's people, maybe they haven't. Who knows if the movie will even get made. Scarlett has said in the past that she'd have no problem doing nudity though, so a few topless scenes definitely wouldn't be a deal breaker for her. What might be a deal breaker is that it's a movie about a porn star based on a book written by a porn star… hardly Oscar material. Scarlett usually has a better eye for projects than that.
Your Daily Blend of Entertainment News
Thank you for signing up to CinemaBlend. You will receive a verification email shortly.
There was a problem. Please refresh the page and try again.