Who Anne Hathaway Thinks Should Play Mary Poppins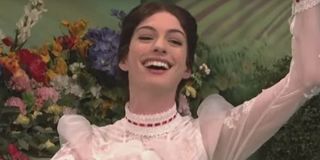 Just to prove that Hollywood has officially run out of original ideas, there's actually a Mary Poppins reboot currently in the works. But as sacrilegious as that sounds, there have become two clear front-runners for the legendary role that would probably make pretty impressive go's at playing the singing nanny. One of these is Anne Hathaway. And the other is Emily Blunt. But Hathaway insists her English counterpart would be much better in the role than her.
Anne Hathaway was asked about her feelings on currently being the bookie's favorite to star as Mary Poppins in the reboot by Entertainment Tonight, and she admitted that she hasn't heard diddly-squat about taking the part. But after being told that her Devil Wears Prada co-star Emily Blunt was right up there in the running to play Mary Poppins, Hathaway declared that she doesn't stand a chance against her. And it's all to do with the fact that Blunt was, like the original Mary Poppins herself, Julie Andrews, born across the pond. Hathaway simply declared:
Meanwhile, there is one person who is already on the Anne Hathaway For Mary Poppins bandwagon, and it's none other than her co-star in The Intern, Robert De Niro. Sure, De Niro hasn't been covering himself in too much glory during his recent promotional efforts for the Nancy Meyers comedy, but he was clearly in a much chipper mood during this recent chat as he threw his weight behind Hathaway taking the hugely coveted role. In fact, Bobby D admitted that when he originally heard that plans were afoot for Mary Poppins to be rebooted he immediately envisioned Anne Hathaway in the part.
But, here's the big question, who would be the perfect new incarnation of Mary Poppins? Well, as Hathaway herself stated, Emily Blunt does have a little bit of an advantage as she is English. Also, let's face it, the film is going to be under a substantial amount of pressure to match up to the classic original. And if the actress hired doesn't at least come close to matching Julie Andrews in the singing department, then the film will be a catastrophic failure.
Blunt impressed audiences in Into the Woods, which was helmed by the man up for the Mary Poppins reboot, Rob Marshall. Anne Hathaway's singing in Les Miserables, meanwhile, was deemed so impressive that she took home the Academy Award For Best Supporting Actress for her efforts. However, when she gave a quick rendition of Chim Chimney from Mary Poppins at the end of her interview, it proved that if Hathaway is cast, she's going to have to do a little bit more training. You can watch below:
Personally, I'd go for Anne Hathaway ahead of Emily Blunt, just because of her singing prowess. But either way it's going to take a monumental effort from everyone involved just to come close to matching the original Mary Poppins. Disney are currently still working on the script for the new musical, which will be set 20 years after the original and is going to be directed by Marshall. Who do YOU think should play Mary this time around?
Your Daily Blend of Entertainment News