Awesome Spider-Man: Homecoming Poster Has Spidey Chillaxing By Avengers Tower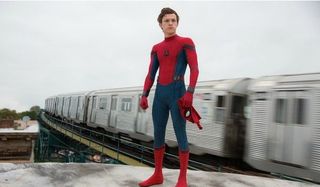 Even though this summer is chock full of exciting blockbusters, it's the new Spider-Man film that remains the most intriguing, as fans eagerly await to see Tom Holland's web-slinger fully merge into the Marvel Cinematic Universe with Spider-Man: Homecoming. Holland got off to a stunning start in the role in Captain America: Civil War, but now he has to stand on his own two feet by leading his very own film. The latest poster for Spider-Man: Homecoming actually depicts Tom Holland doing the complete opposite, as he lounges around on his back in front of the New York skyline. Thankfully it still looks absolutely awesome.
The above poster, which was uploaded to Spider-Man's Facebook page, also came with the tagline, "Homework can wait. The city can't." Cute. In fact, the poster seems to suggest that Peter Parker has forgone his homework altogether, and is actually just waiting around patiently for a crime to take place so that he can swing into action, save the day, and impress Tony Stark. Hopefully Peter Parker's Spidey-sense isn't blocked out by those headphones.
The more eagle-eyed amongst you will have immediately noticed the Avengers Tower in the New York skyline. This is a reminder to audiences that Spider-Man: Homecoming isn't just showing us the regular trials and tribulations of Peter Parker as he mixes schoolwork with fighting crime, but that he also has to regularly interact with Robert Downey Jr's Tony Stark/Iron Man as well.
Just to hammer home that point, another poster for Spider-Man: Homecoming was released, which literally showed the superhero hanging off the A on top of Avengers tower.
The first trailer for Spider-Man: Homecoming made it clear that Tony Stark acts as a mentor figure to Peter Parker, and he even provokes the ire of the burgeoning superhero because of his repeated rules and guidelines. In addition to mixing Iron Man and Spider-Man together, Homecoming also boasts Michael Keaton as its villain Vulture, while the film's impressive supporting cast includes Zendaya, Donald Glover, Bokeem Woodbine, Marisa Tomei, Logan Marshall-Green, and Jon Favreau. You can watch the trailer for Spider-Man: Homecoming below.
Superb stuff. Spider-Man: Homecoming will finally be released on July 7, and Tom Holland's participation in Avengers: Infinity War has also already been confirmed. Considering the popularity of the superhero, as well as his stunning debut in Captain America: Civil War, you can count on Spider-Man making more appearances after that, too.
Your Daily Blend of Entertainment News