The First Goodbye Christopher Robin Trailer Is Touching And Poignant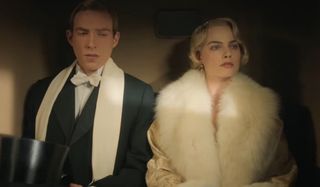 The tales of Winnie The Pooh and his close pal Christopher Robin are some of the most endearing in literature history. So the story of how A.A. Milne came to create the character was always going to be of interest to fans. It was just a question of whether or not it would be worth telling on the big screen. Fox Searchlight clearly believe that it is, and the first glimpse at Goodbye Christopher Robin suggests that the studio's hunch was right, too, as it looks like a touching and poignant story of a father being inspired by his young son. You can watch the first trailer for Goodbye Christopher Robin below.
Well, that was unexpectedly emotional. Plus its release date in the fall suggests that it could be in the mix during the awards season, too, especially as the Academy has previously shown that it adores a British biopic, and this one has an emotional bent led by adoring narration from Boardwalk Empire's Kelly MacDonald. In a few short minutes she sets up the story of the Milne family, and how some fun storytelling eventually led to books that were so popular, storekeepers were having trouble keeping them on the shelves. The fact that there's a cavalcade of talent involved--like MacDonald--in Goodbye Christopher Robin should also put it in good stead if it has awards season ambitions, too.
Domhnall Gleeson is starring in the movie and will take on the role of A.A. Milne in Goodbye Christopher Robin. The Irish actor, and the son of the mercurial Brendan Gleeson, has recently been wowing fans with his performances in Ex Machina, Brooklyn, Star Wars: The Force Awakens, and The Revenant, and he will pop up in American Made and Star Wars: The Last Jedi before the year is out, too.
Domhnall Gleeson will be joined in Goodbye Christopher Robin by none other than Margot Robbie, who has firmly established herself as one of the most popular actresses working in Hollywood in recent years, too. Margot Robbie came to the attention of most moviegoers when she starred opposite Leonardo DiCaprio in The Wolf Of Wall Street, but since then she has been the best thing in the likes of Focus, The Legend Of Tarzan, and Suicide Squad. Domhnall Gleeson and Margot Robbie are already well versed in each others acting techniques, too, as they previously appeared on screen together in Richard Curtis's About Time.
The cast for Goodbye Christopher Robin is rounded off by Kelly Macdonald (Trainspotting) and Phoebe Waller-Bridge (Han Solo), while its creative team behind the camera is just as impressive. Co-writer Frank Cottrell-Boyce previously scribed Hilary And Jackie, 24 Hour Party People, Millions, and A Cock And Bull Story. Director Simon Curtis showed he's quite adept at handling a British based biopic when he oversaw 2011's My Week With Marilyn, too, which even saw Michelle Williams pick up a Best Actress Oscar nomination for her performance as Marilyn Monroe.
We'll get to see if he can inspire either Margot Robbie or Domhnall Gleeson to similar nominations when Goodbye Christopher Robin is released on 13 October. For now, here are what other movies are coming up.
Your Daily Blend of Entertainment News