Is X-Men: Dark Phoenix Bringing Back Psylocke?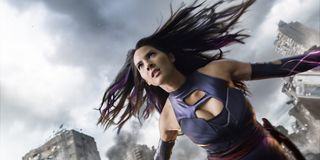 X-Men: Dark Phoenix, the second theatrical adaptation of The Dark Phoenix Saga, is bringing back a lot of familiar faces, from "First Class" era mainstays like Professor X and Mystique to younger mutant heroes like Cyclops and Storm. All of the established characters who have been announced so far for X-Men: Dark Phoenix were on relatively good terms with one another when X-Men: Apocalypse ended, but that streak may be over, as it looks like Olivia Munn could be reprising Psylocke for the seventh main X-Men installment.
Earlier today on Snapchat (via Omega Underground), Olivia Munn posted a photo of herself in Montreal, Canada, where X-Men: Dark Phoenix is currently shooting. While this didn't constitute official confirmation that she will appear in the X-Men movie, it certainly seems plausible if she's in the same areas where the cameras are rolling. With principal photography happening until October, we'll hopefully learn for sure whether or not Psylocke will be taking part in X-Men: Dark Phoenix in the coming weeks or months.
Olivia Munn's Psylocke was introduced in X-Men: Apocalypse as Caliban's bodyguard, but when Apocalypse came to her employer in search of mutants to join his cause, the ancient Egyptian mutant recruited Psylocke and turned her into one of his Four Horsemen. Psylocke later fought Beast during the movie's climactic battle, and after Apocalypse was destroyed through the combined efforts of Jean Grey, Cyclops and Magneto, she left the area without saying a word. If Psylocke does indeed appear in X-Men: Dark Phoenix, it will be interesting to see whether she remains an X-Men adversary or if she'll follow after her fellow Horseman Storm and decide to join the team. Approximately a decade will have passed in the events of X-Men: Apocalypse, so surely that would be enough time for her to have possibly walked away from her old life in favor of using her energy abilities for good.
Like 2006's X-Men: The Last Stand, X-Men: Dark Phoenix will see Jean Grey being consumed by the Phoenix Force. This time, however, it appears audiences will be treated to a more faithful adaptation of The Dark Phoenix Saga, what with the rumors about aliens appearing and Jessica Chastain being in talks to play Lilandra Neramani. So far the confirmed cast includes James McAvoy as Professor X, Jennifer Lawrence as Mystique, Michael Fassbender as Magneto, Nicholas Hoult as Beast, Sophie Turner as Jean Grey, Tye Sheridan as Cyclops, Alexandra Shipp as Storm, Kodi Smit-McPhee as Nightcrawler, Evan Peters as Quicksilver and The Next Step's Lamar Johnson in a yet-to-be-revealed role. Dazzler will also appear, although she has not been cast yet.
Directed and written by Simon Kinberg, X-Men: Dark Phoenix will be released in theaters on November 2, 2018.
This poll is no longer available.
Your Daily Blend of Entertainment News
Connoisseur of Marvel, DC, Star Wars, John Wick, MonsterVerse and Doctor Who lore. He's aware he looks like Harry Potter and Clark Kent.
Your Daily Blend of Entertainment News
Thank you for signing up to CinemaBlend. You will receive a verification email shortly.
There was a problem. Please refresh the page and try again.