What Batman V Superman Would Have Been Like If Henry Cavill Had A Mustache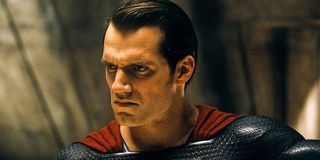 Without question, one of the weirdest news stories of the last week revolves around the Justice League reshoots digitally removing Henry Cavill's Mission: Impossible 6 mustache. That little patch of super upper lip hair has become an instant meme within online communities, and it has even sparked some fantastic fan videos. One of the latest to debut online shows us a version of Batman V Superman: Dawn of Justice that features a heavily mustachioed Man of Steel, and it's the superhero movie that we deserve. Check it out below.
Despite the fact that it clearly wouldn't fit the historical depiction of the character, we cannot help but want to see Henry Cavill's Superman rock a mustache. It would make absolutely no sense, but it also would offer up a healthy dose of absurd comedy, particularly if nobody were even to mention it. Batman V Superman: Dawn of Justice was a fairly dour movie, but that one-minute fan video is absolutely perfect.
In the end, the credit goes to YouTuber David Johns for re-imagining Batman V Superman so perfectly. That one-minute clip correctly pulls some of the most serious and intense moments from the entire Batman/Superman slugfest, and it features all of the dry, deadpan delivery that we expect from the best online spoofs. It also seems to answer the question of why Ben Affleck's Bruce Wayne is the angriest member of the DC Trinity: Superman and Wonder Woman can apparently grow some awesome facial hair, but Batman is stuck with some stubble under his cowl. Maybe Commissioner Gordon (J.K. Simmons) could give him a few pointers by the time Matt Reeves' solo Batman movie debuts in theaters.
It sounds like Justice League pulled the short straw when it comes to this mustache situation, because the folks at Mission: Impossible 6 haven't budged. Although having Henry Cavill wear a fake mustache seems like an easier option on the surface, director Christopher McQuarrie recently addressed the issue on social media and specifically said that it's not feasible for him to sub a fake mustache in for his Mission: Impossible role.
Of course, it's worth remembering that only a fraction of Justice League's insane reshoot budget has gone to the digital removal of Henry Cavill's Tom Selleck-esque mustache. In addition to some post-production facial grooming, the $25 million has also gone towards allowing Joss Whedon to punch up the underlying story of the film and let the actual narrative to flow more smoothly between Zack Snyder's usable action sequences. No matter what, it's already becoming clear that Justice League may look like a very different movie once the man who helmed The Avengers is done with it.
Henry Cavill's Superman will make his next appearance in the DCEU (sans mustache, sadly) when Zack Snyder's Justice League debuts in theaters on November 17. However, you WILL be able to see his glorious upper-lip hair when Mission: Impossible 6 premieres next summer on July 27, 2018.
Originally from Connecticut, Conner grew up in San Diego and graduated from Chapman University in 2014. He now lives in Los Angeles working in and around the entertainment industry and can mostly be found binging horror movies and chugging coffee.
Your Daily Blend of Entertainment News
Thank you for signing up to CinemaBlend. You will receive a verification email shortly.
There was a problem. Please refresh the page and try again.