Mother! Just Screened, Here's What Anthony Bourdain Thinks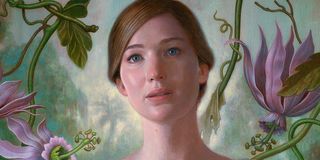 Part of what makes Darren Aronofksy's latest feature film, mother!, so exciting is how little information about it has been revealed despite the movie getting released in just two weeks. Now, following a pair of stylish posters, a trailer and a clip, we have a reaction from someone who has actually seen the film. It's a rather unlikely source, too, as celebrity chef and television personality Anthony Bourdain just posted the following:
Per the film's official description, mother! finds Jennifer Lawrence and Javier Bardem a happily married couple who, for some mysterious reason, take in two strangers as houseguests. Those characters, the roles played by Ed Harris and Michelle Pfeiffer, soon threaten to tear apart Lawrence and Bardem's peaceful existence and, judging from the film's trailer, they might not even be total strangers in the first place. Darren Aronofsky has gone to great lengths to keep the twists of mother! a secret and Anthony Bourdain's comments seem to further drive home the suggestion that the film's final plot will be very, very different than audiences expect.
While Anthony Bourdain might seem like a strange source for film criticism, he and Darren Aronofsky have a history together. Aronofsky is a big fan of Bourdain's CNN travel series Anthony Bourdain: Parts Unknown. He reached out to Bourdain and asked if he could appear on an episode. The pair traveled together to Madagascar for a 2015 episode. They seem to have kept in touch as Bourdain was among a small group invited to a private early screening of mother! in advanced of its screenings at the Venice Film Festival and the Toronto International Film Festival. Part of the reason for the short window between the festival debut of mother! and the wide release is said to be Aronofsky's desire to keep spoilers as contained as possible.
Admittedly, it's unlikely that anyone invited to a private screening hosted by a friend would rush to Twitter to post a negative reaction. Still, Anthony Bourdain's post should nevertheless serve to fuel the anticipation Darren Aronofsky fans are feeling about the imminent arrival of his first directorial effort since Noah in early 2014. The new movie mother! is believed to be a horror thriller and boasts an impressive lineup of talent, including the aforementioned Academy Award winners Jennifer Lawrence and Javier Bardem opposite multiple Oscar nominees Ed Harris and Michelle Pfeiffer.
Also set to feature roles for Kristen Wiig, Jovan Adepo, Stephen McHattie and sibling actors Brian and Domhnall Gleeson, mother! will get a wide release through Paramount Pictures on September 15. It sounds like this is one you're going to want to catch as early as possible, too, since it sounds like a case where spoilers could really affect the moviegoing experience.
In addition to mother!, check out eight other films we're looking forward to that hit theaters in September.
Your Daily Blend of Entertainment News
Thank you for signing up to CinemaBlend. You will receive a verification email shortly.
There was a problem. Please refresh the page and try again.