The Avengers: Infinity War Super Bowl Trailer Is Here, Watch It Now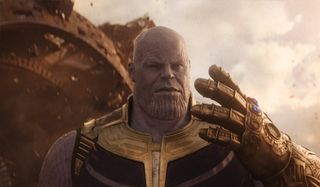 Last week we saw the big debut of the first trailer for Ant-Man & The Wasp... but you didn't think that The Avengers: Infinity War would be sitting out the big game, did you? While football fans are watching the Eagles face off against the Patriots, cinephiles are preparing for The Avengers and Guardians of the Galaxy versus Thanos -- and now we have some new footage over which we can obsess. Guardians and Thor! New suits! Group shots galore! The Super Bowl spot has a ton of juicy details teasing the biggest movie of the year/the decade/our lifetimes. What are you waiting for, check it out below.
Man... just wow. It's all been leading to this. Spine status: chilled. I gotta say I did not think we would be getting this much new footage in a 30-second trailer, but the Super Bowl spot for Avengers: Infinity War packs in a ton of stuff. So let's just start at the beginning. Iron Man, Doctor Strange and Spider-Man are all I'm assuming, aboard Thanos' ship here, and Iron Man has a new suit! We also see how Peter Parker might wind up there after hitching a ride on that ring from the first trailer. It's cool to see him bringing some heavy hitters with him. Spider-Man punches above his weight and is rocking the iron spider suit but the high school student is going to need some help that he can fight with and be a fanboy to. Their presence on the ship makes me curious if this film will be a divide and conquer type story. Where there are mini-Avengers teams each carrying out separate jobs all around the globe and beyond to try and defeat Thanos.
I'm not sure who this trailer is missing, except Hawkeye maybe, but we get glimpses of almost everyone. We get the Thor and Rocket Raccoon pairing that we have heard about and I can't wait to see how those two get along. We had heard that Thor may only have a light scar after his Thor: Ragnarok cyclopsing but he is clearly still rocking the eye patch here. Perhaps he loses the patch at some point. I mean the thing doesn't even have a strap, you kind of need a sport eyepatch when facing the Black Order. We also recently speculated about Captain America's new shield and we get to see it in motion here. The shield is much, shall we say, sharper, than the traditional one and that'll probably help when fighting an alien enemy you don't mind killing. There is also a great shot of the new look Steve Rogers, Black Widow and the Vision together. So clearly the post-Civil War rift is healed pretty quickly and everyone stands as one to face the galactic threat.
This trailer has so many fun little details that you almost need to go frame by frame to pick them all up. The first trailer featured Scarlet Witch and Vision in human form, but here you get to see that Scarlet Witch is doing something with Vision's infinity stone. Perhaps the stone is reacting to Thanos' presence/the other stones, a la Harry Potter and horcruxes. Despite being left out of the first trailer, even Nebula makes an appearance here, looking mighty angry, as well as fan favorite Groot!
For me, one of the coolest shots in the trailer is when Doctor Strange is doing some casting while Iron Man swoops with his repulsor beams for the assist. I think that's what is the real motif of this trailer, heroes working together. We see a bunch of new permutations of these characters, Avengers, Guardians of the Galaxy and freelancers, all working and standing together. We have never seen many of these combinations before and it will be thrilling to watch these heroes bicker, banter and band together to stop the greatest threat any of them has ever faced. This is what comic books have done for decades and what kids have always played out in their imaginations with their action figures. This is the culmination and realization of the promise of the Marvel Cinematic Universe.
Directed by Joe and Anthony Russo, The Avengers: Infinity War is the culmination of the last 10 years of Marvel Cinematic Universe movies. Thanos (Josh Brolin), an intergalactic warlord, is on the hunt for the six Infinity Stones that, when assembled in the Infinity Gauntlet, will grant him the powers of a god. Collecting these relics means coming to our planet, however, and Earth's Mightiest Heroes and the Guardians of the Galaxy won't let the tyrant get what he wants without a serious fight. Stay tuned to CinemaBlend as we continue to bask in this trailer and dissect it for every hint at what May holds. Avengers: Infinity War hits theaters on May 4th.
Your Daily Blend of Entertainment News
Nick grew up in Maryland has degrees in Film Studies and Communications. His life goal is to walk the earth, meet people and get into adventures. He's also still looking for The Adventures of Pete and Pete season 3 on DVD if anyone has a lead.