How Much Avengers: Infinity War Reportedly Cost To Make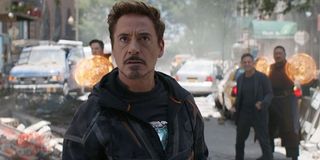 We've known for a long time that Avengers: Infinity War would be an expensive movie. Shot back-to-back with the still-untitled Avengers 4, the upcoming Marvel movie has been touted as the biggest, most-complicated Marvel movie yet, not to mention its ensemble cast is huge and costly. A new estimate has indicated the actual cost to make Avengers: Infinity War may be a little lower than some may have expected, as the budget was reportedly $300 million for the long-awaited film. While that's very expensive, it's still not the most expensive movie ever made.
In fact, if the roughly $300 million budget The Wall Street Journal mentions in its latest report holds true, Avengers: Infinity War will be quite a bit less costly than the other Disney venture Pirates of the Caribbean: On Stranger Tides. The latter film, which came out back in 2011, is the most expensive film ever made, adjusted for inflation. (It cost $378.5 million, and that's without even counting inflation.) Other expensive films include Spider-Man 3, which cost $258 million (adjusted for inflation that's $291 million), and other big movies like Pirates of the Caribbean: At World's End, Titanic and Tangled end up being similar albeit a little lower than that of Avengers: Infinity War. (More here about inflation.) Similarly, Justice League reportedly cost around $300 million to make more recently. While Infinity War may not be the most expensive movie ever made, it's clear that $300 million is a huge number.
Previously, reports indicated that the production budget for both Avengers: Infinity War and Avengers 4 combined might run at around a billion dollars. Yes, that would be for two movies, but that's also way more than the estimation of $300 million for production. It's also just an insane number in general when split in two. Of course, those numbers were heavily guesstimated and at this point seem to be over-guesstimated. Regardless of the ultimate cost, it's clear that Infinity War and its follow-up are not cheap movies.
It should also be noted that studios spend a lot of money on things like advertising after production. However, that's not the same thing as the production budget, which includes things like paying the cast, paying the crew, post-production costs, catering costs... the list goes on and on. I'm sure with the addition of advertising -- and there has been a lot for Avengers: Infinity War -- the movie will be far costlier, but it is expected to do very well in theaters and should make its budget back, plus profit.
In fact, the most recent look at Avengers: Infinity War's box office indicates that the new Marvel movie is potentially eyeing a box office record. Estimates suggest the movie will make somewhere in the $235 million to $255 million range domestically on opening weekend. At the lower end of that estimate, Avengers: Infinity War would still have a huge box office intake. However, at the higher end of that budget, it could even overtake Star Wars: The Force Awakens as the movie with the biggest opening weekend of all time. The Force Awakens made $247.97 million on opening weekend domestically.
There are only a few days left before the money starts rolling in, and we'll keep you posted as soon as people start dropping chunks of change to see Avengers: Infinity War. To find out more about the movie, take a look at our full guide.
Your Daily Blend of Entertainment News
Reality TV fan with a pinch of Disney fairy dust thrown in. Theme park junkie. If you've created a rom-com I've probably watched it.