Avengers: Endgame's Morgan Stark Star Has The Perfect Marvel Halloween Costume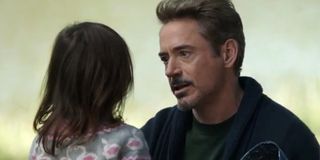 After the astonishing success of Avengers: Endgame this year, we can all expect to see plenty of Marvel-themed trick-or-treaters this year. But regardless of how creative these costumes turn out to be, one of the film's stars has already pretty much won Halloween. Lexi Rabe, who plays Morgan Stark, found a way to pay homage to one of her on-screen parents in the sweetest way possible.
On October 15, the 7-year-old actress posted an adorable photo of herself striking a power stance in Pepper Pott's Rescue armor on Instagram. And she made sure to shout out Gwyneth Paltrow in the accompanying caption, too. She told her fans she had "so much fun" dressing up as her Marvel mom for a Halloween party, before saying, "Mom doesn't get enough love!! So I thought I would show her some!" Just in case anyone questioned her devotion to Iron Man, she called out Robert Downey Jr. and Tony Stark in her post, too, telling everyone, "I'm still a daddy's girl!"
Lexi Rabe's scenes as Morgan Stark in Avengers: Endgame led to one of the franchise's most memorable moments. Her "love you 3000" exchange with Tony Stark has become a common term of endearment for fans all over the world. Another moment, when she briefly donned Pepper's Rescue helmet, served more as foreshadowing than mother-daughter bonding. So it's especially sweet that the actress chose to show some love for her MCU mom's long-awaited heroic turn.
It's also nice to see that Lexi Rabe still seems willing to embrace the Marvel fandom. Earlier this year, she weathered a wave of bullying after accusations that she was standoffish circulated online. Her mother took to social media to defend her daughter and remind fans that not only is she balancing the demands of an acting career, but she's doing so at a young age. Her Instagram tribute is a perfect example of how she's doing both those things, even after appearing in the highest-grossing film of all time.
As for Morgan Stark's future in the Marvel Cinematic Universe, it's too early to tell. We know that the Russos shot a scene where Tony Stark met an older version of his daughter in a cosmic waystation. The scene ultimately ended up on the cutting room floor. But since the franchise has already cast 13 Reasons Why's Katharine Langford as the grown up Morgan Stark, it seems feasible that they could bring her into the fold eventually. That would mean, though, that Lexi Rabe's days playing Tony and Peppers' daughter have probably come to an end -- which makes her costume choice even more poignant.
Your Daily Blend of Entertainment News