What To Watch If You Love The Blacklist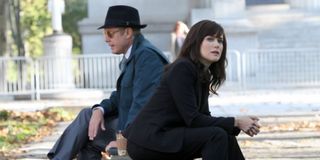 CinemaBlend participates in affiliate programs with various companies. We may earn a commission when you click on or make purchases via links.
Unforeseen circumstances have delayed the return of The Blacklist for Season 8 until 2021, which has caused its most devoted viewers to see "red." Fortunately, there are plenty of other TV shows, and even movies alike, available to stream that have the same kind of dark crimes and morally questionable "heroes" to satisfy fans for the time being.
In the gripping NBC procedural drama, the notorious, sophisticated, and much elusive Raymond "Red" Reddington (James Spader in a two-time Golden Globe-nominated performance) shockingly turns himself in before offering his own criminal expertise to help to catch felons even worse than he is. The catch is that he will only help if profiler Elizabeth Keen (Megan Boone), a fresh face in the FBI, is made his partner, a mysterious request that leads this unlikely pairing down a rabbit hole of grisly twists and turns.
Well, there is certainly more of that in the following four feature-length films and eight TV shows that we recommend lover of such crime thrillers should also be sure to check out if they have not already. For fans of The Blacklist, we present our "gold list"
Criminal Minds (Netflix)
A group of federal agents with a unique specialty for psychological studies delve into the mindset of the most wanted people in the country in hopes to figure when, where, and how they might strike next.
Why The Blacklist fans will love it: The FBI's Behavioral Analysis Unit may not have an accomplished criminal genius like The Blacklist's Red Reddington to help catch the bad guys, but on Criminal Minds, a fan-favorite CBS crime procedural that lasted a whopping 15 seasons, they have the next best thing: the ability to think just like the bad guys.
Stream Criminal Minds on Netflix here (opens in new tab).
Mindhunter (Netflix)
A bright, ambitious, young FBI agent (Jonathan Groff) teams up with a gruff, but curious, veteran and family man (Holt McCallany) to reach a better understanding of why people kill by organizing recorded interviews with people who kill, an unprecedented and quite controversial concept, in the late 1970s.
Why The Blacklist fans will love it: To learn the origin of the FBI unit that inspired Criminal Minds and, in turn, the kind of behavior that Red and Liz would track on The Blacklist, turn to Mindhunter, a Netflix original series from executive producer David Fincher, which may feature protagonists only based on real people, but depicts interviews with real life serial killers portrayed so convincingly, you will think you are the one in the hot seat with Charles Manson.
Stream Mindhunter on Netflix here (opens in new tab).
The Enforcer (HBO Max)
His infamously rebellious methods of justice lead Inspector Harry Callahan (Clint Eastwood) to reluctantly take a new, young partner (Cagney and Lacey star Tyne Daly) under his wing to stop a group of Vietnam veterans terrorizing San Francisco.
Why The Blacklist fans will love it: Clint Eastwood's iconic crimefighter has a lot in common in Red Reddington for how well he taps into the mindset of the bad guys, but in The Enforcer, the under appreciated 1976 third installment of the Dirty Harry franchise, his mentoring of Tyne Daly's Kate Moore resembles Red and Liz's unlikely pairing for how it quickly evolves into a better match than they might have expected.
Stream The Enforcer on HBO Max here (opens in new tab).
Luther (Amazon Prime)
While he may be one of the best cops in London, John Luther (Idris Elba) has demons beyond his own control that make him no better than the evil he chases in the eyes of his colleagues and even to those in his life when off duty.
Why The Blacklist fans will love it: Imagine if Red Reddington was not the charismatic convict you cannot help but love on The Blacklist, but an insufferably bullish do-gooder you love to hate and you have the title "protagonist" of Luther, which may not have kept critics and audiences locked in for all five seasons (split up over the course of 9 years) if not for Idris Elba's multi-award-winning performance that adds a layer of engrossing complexity to the drama.
Stream Luther on Amazon Prime here.
In The Heat Of The Night (Amazon Prime)
After he is grossly mistaken for a suspect in the murder of a businessman, a black police detective (Academy Award winner Sidney Poitier) is soon asked, reluctantly so, by the local police chief (Rod Steiger) to help find the real killer during one hot summer in a hostile Mississippi town.
Why The Blacklist fans will love it: Like Liz and Red, and also much like the last couple of top notch crimefighters mentioned, Sidney Poitier's Virgil Tibbs is prone to butting heads with his colleagues, but for an entirely different reason in In the Heat of the Night, a thrilling mystery rich in themes of racial tension that won the 1968 Oscar for Best Picture and inspired an acclaimed long-running series of the same name.
Stream In the Heat of the Night on Amazon Prime here.
White Collar (Hulu)
In order to be pardoned for his many brilliant crimes, a smooth, charming thief (Matt Bomer) assists a by-the-book FBI agent (Tim DeKay) to catch criminals with the same level of skill and intellect, striking up a unique friendship in the process.
Why The Blacklist fans will love it: Neal Caffrey, Matt Bomer's character on the popular USA dramedy series White Collar, may not be the heinous sociopath that Red Reddington is known to be on The Blacklist, but they both certainly have the right idea about the good use their criminal mastery can be applied to.
Stream White Collar on Hulu here (opens in new tab).
Justified (Hulu)
U.S. Marshal Raylan Givens (Timothy Olyphant) brings a brand of justice straight out of the wild west to his hometown in rural Kentucky after he find himself reassigned to protect it.
Why The Blacklist fans will love it: In addition to his rebellious methods, Raylan Givens has also been known to enlist the help of his friendship, known off-and-on criminal and former white supremacist Boyd Crowder (Emmy-nominee Walton Goggins), essentially making Justified the modern-day western fan's answer to The Blacklist, if you think about it.
Stream Justified on Hulu here (opens in new tab).
The Silence Of The Lambs (Netflix, Amazon Prime)
A young FBI trainee (Academy Award winner Jodie Foster) seeks the guidance of an intimidating, yet awfully personable, forensic psychiatrist convicted of murder and cannibalism (Academy Award winner Anthony Hopkins) in order to find a killer nicknamed "Buffalo Bill" for skinning his victims.
Why The Blacklist fans will love it: Clarice Starling and Hannibal Lecter were essentially the original Liz and Red, even though, in The Blacklist, it is the criminal enlisting the help of the agent and Lecter is just a tad less cooperative and quite frankly, a lot creepier in The Silence of the Lambs, a 1992 Best Picture Oscar winner from director Jonathan Demme that still manages to chill the meat right off of your bones.
Stream The Silence of the Lambs on Netflix here (opens in new tab) or on Amazon Prime here.
Hannibal (Netflix, Amazon Prime)
A young FBI profiler (Hugh Dancy) seeks guidance, professionally and personally, from an alluring, yet slightly unusual, forensic psychiatrist who has yet to be convicted of murder and cannibalism (Mads Mikkelson) in order to find a series of dementedly theatrical killers.
Why The Blacklist fans will love it: Clarice Starling may have been, in some ways, the original Elizabeth Keen, but the first character that author Thomas Harris paired with the title character of Hannibal, before his savage criminal history was even revealed, was Will Graham, who is actually quite bothered by his ability to empathize with the very killers he is tasked with hunting in this short-lived, but much acclaimed, NBC drama.
Stream Hannibal on Netflix here (opens in new tab) or on Amazon Prime here.
The Alienist (HBO Max)
An ancillary German psychologist (Daniel Brühl), a newspaper illustrator (Luke Evans), and an ambitious police secretary (Dakota Fanning) brave public outcry and early forensic methods to solve a murder in late 19th-century New York City.
Why The Blacklist fans will love it: If I was a former criminal like Red Reddington, I would totally understand if someone in law enforcement had reservations trusting me, but the title character of The Alienist, which was the common word for a criminal psychologist at the time, should be expected to earn the police's trust, but he gets nothing but contempt for his controversial beliefs in this limited series from TNT that has spawned an 8-episode follow-up in 2020.
Stream The Alienist on HBO Max here (opens in new tab).
Inside Man (Netflix)
When a thief (Clive Owen) takes hostages in a Manhattan bank for what seems to be a typical robbery, a hard-nosed hostage negotiator (Denzel Washington) begins to suspect there may be ulterior motives at play.
Why The Blacklist fans will love it: The mind-teasing twists that Inside Man, a well-received 2006 Spike Lee Joint, presents at nearly every turn are just as thrilling as any of The Blacklist's more memorable shockers and, not to mention, Clive Owen's meticulous criminal genius Dalton Russell is one whom Red Reddington would get along with quite well.
Stream Inside Man on Netflix here (opens in new tab).
Boston Legal (Hulu)
With the help of his friend, legal veteran and friend Denny Crane (William Shatner), Alan Shore (James Spader) becomes one of the most successful attorneys at his Boston law firm, but does through an ethically questionable means.
Why The Blacklist fans will love it: The Blacklist star James Spader won two Emmys for his role on Boston Legal, spun-off from the long-running ABC drama The Practice, that puts the actor in the role of the one being mentored this time.
Stream Boston Legal on Hulu here (opens in new tab).
What do you think? Do you agree this is "gold list" for The Blacklist fans that we promised, or is this choice of movies and TV shows a crime? Let us know in the comments and be sure to check back for additional information and updates on the hit, Emmy-winning series, as well as even more great recommendations for you to stream, here on CinemaBlend.
Your Daily Blend of Entertainment News
Jason has been writing since he was able to pick up a washable marker, with which he wrote his debut illustrated children's story, later transitioning to a short-lived comic book series and (very) amateur filmmaking before finally settling on pursuing a career in writing about movies in lieu of making them. Look for his name in just about any article related to Batman.
Your Daily Blend of Entertainment News
Thank you for signing up to CinemaBlend. You will receive a verification email shortly.
There was a problem. Please refresh the page and try again.