Interstellar And 10 Other Great Space Travel Movies To Come Out In The Past 10 Years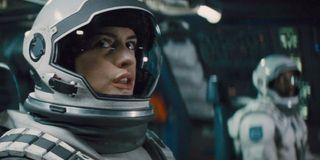 There have been some great space travel movies throughout the history of cinema, with everything from the 1902 french silent film Le Voyage Dans la Lun (A Trip to the Moon) to Stanley Kubrick's 1969 masterful 2001: A Space Odyssey coming to mind. As the years have gone by there seems to be more and more narratives centered around the idea of space travel with beautifully shot blockbuster masterpieces like the 2014 Christopher Nolan epic Interstellar, and low-budget sci-fi horror thrillers like the 2013 found footage hit Eurpoa Report, and more.
Between 2010 and 2019, audiences around the world were treated to some of the greatest offerings in the history of the genre, so many that you might have forgotten one or two. To remind you of some, I've put together a list of 11 great space travels movies to come out in the past 10 years for you to explore. Buckle up and don't forget your dramamine because this is going to be a wild ride…
Interstellar (2014)
Audiences are still debating the divisive ending of Christopher Nolan's 2014 space/time travel/father and daughter drama, but despite the confusing final act of the nearly three-hour blockbuster, Interstellar remains one of the most inventive and enjoyable movies to come out in the past 10 years, no matter the genre. Not only does it feature one of the best Matthew McConaughey performances and a great score from Hans Zimmer, much of the film wasn't shot on a green screen and offers some pretty revolutionary ideas concerning space travel, relativity, and most of all, humanity's quest to find answers to all of life's questions. Add in some impressive shots of black holes, warm holes, and holes left in the hearts of several of the characters, and you have yourself an adventure worth revisiting six years later. At the very least just go back and watch the insanely beautiful trailer.
Ad Astra (2019)
There were great space travel movies scattered throughout the 2010s like galaxies in the vast universe, and one of the brightest of those was James Gray's melancholic story of a broken man hunting his long-lost father in the depths of space: Ad Astra. Starring Brad Pitt as Roy McBride, the film does an amazing job of turning what seems like an everyday job for its central character into a great odyssey from which we don't know if he'll return. And if he does return, how will the journey affect him? By the time Tommy Lee Jones' Clifford McBride is seen in the flesh, his son has experienced much more than he ever thought he would, and he still has more lessons to learn before it concludes.
First Man (2018)
Damien Chazelle's retelling of the Apollo 11 mission to the moon could have taken a very conventional route similar to something like Apollo 13, but thankfully his 2018 film First Man was anything but conventional. Instead of beaming with patriotism like so many have done before him, the director of La La Land and Whiplash showed a side of Neil Armstrong (Ryan Gosling) that few had ever seen before. By including the death of Armstrong's young daughter in the early goings of the film, the director was able to add depth, emotion, and a different kind of pride to a movie that thumbed its nose at the normal space travel feature. It also avoided all of those over-the-top shots of rockets shooting off into space and instead focused on the Gosling's astronaut and what he was feeling at the time of the launch.
The Martian (2015)
Ridley Scott's epic story of the power of engineering and the human spirit might not be a comedy, but that doesn't mean The Martian isn't an amazing movie deserving of all the credit it has received since its 2015 release. Everything from Matt Damon's performance as stranded astronaut Mark Watney to Jessica Chastain's Melissa Lewis and the rest of Watney's crew and scientists back on Earth who come up with amazing ways of risking life, resources, and tons and tons of cash to get him home is enough to earn it a spot on this list, but that's not all. It has been five years since it first hit theaters, but its shots of space, the martian surface, and labs and facilities on our planet only add to the grand scale of this surprisingly refreshing space travel film.
Gravity (2013)
Unlike the first four movies on this list, Alfonso Cuarón's 2013 space thriller Gravity doesn't so much as deal with astronauts traveling to a far-off destination as much as it focuses on the journey home. Clocking in at 91 minutes (each as action-packed or tense as the last), the perilous journey of Ryan Stone (Sandra Bullock) surviving the destruction of her ride back home and the death of her entire crew, is something that really stands the test of time. It's only made better with George Clooney's Matt Kowalksi, who helps guide Stone along the way as she finds different methods of getting back to the safety of Earth. The film took home seven Oscars at the 86th Academy Awards, including best director, and it deserved each and every one of them.
Lucy In The Sky (2019)
Loosely based on the real-life story of former astronaut Lisa Nowak, the 2019 space drama Lucy in the Sky follows Lucy Cola (Natalie Portman), an astronaut so impacted by her first trip to space that she no longer feels a connection with her husband or family back home. What follows is a woman's obsession with getting back to space, no matter what it takes or will cost her. As the movie goes on, Lucy becomes obsessed with two of her fellow astronauts and that's where things take a turn. It failed to gain any traction at the box office and was panned by critics when it was initially released, but it still offers an in-depth look at the psyche of someone deeply affected by space travel.
Life (2017)
In addition to all the grand and critically acclaimed space travel movies releases in the 2010s, there was also a great deal of horror and hard sci-fi thrillers to come out. One of the beset examples of that is the terrifying alien flick Life which boasted an incredible cast that included Ryan Reynolds, Jake Gyllenhaal, and Rebecca Ferguson as members of a crew aboard the International Space Station who receive a soil sample from the Martian surface that is believed to contain life. Once the sample is brought aboard the ship, the madness begins to unfold, slowly at first, before reaching a fever pitch as an alien life form takes out the scientists one by one as they try to prevent it from getting to Earth.
High Life (2018)
Robert Pattinson is preparing for the release of one of his biggest features yet in Tenet, and still filming what could prove to be a career-defining role in 2021's The Batman, but the former Twilight star isn't a newcomer when it comes to sci-fi thrillers and moody space movies. For example, take a look at Claire Denis' 2018 sci-fi drama High Life in which Pattinson plays Monte, one of several prisoners with death sentences sent to the depths of space to find a black hole where they are to extract a new form of energy. In addition to dealing with dark matter surrounding the infinite abyss that is the black hole, the film also deals with the birth of children through artificial insemination, finding one's place in the universe, and coming to terms with one's past.
The Wandering Earth (2019)
You might remember The Wandering Earth not because you saw the 2019 Chinese sci-fi epic but because of the headlines inspired by the fact that it brought in $700 million at the box office, with less than $6 million of that coming domestically. Despite not too many people seeing it during its brief run in the United States, The Wandering Earth reached a new audience on Netflix, where people got to see the ridiculousness of the movie's plot. Set in 2061, the story centers around a civilization on Earth who feels its more viable to simply move Earth to another star when the Sun turns into a red giant. This unconventional approach to the genre is pretty revolutionary and offers a breath of fresh air (unlike for the inhabitants of the planet in transit) to the premise of a space travel feature.
Europa Report (2013)
Found footage films were all the rage in the early years of the 2010s and it was only a matter of time before something like Europa Report hit theaters and streaming services around the world. This 2013 sci-fi horror film splices together footage from the fictional Europa One mission as it sets off to Jupiter's moon of the same name after it's discovered to potentially harbor life. Even after the crew loses contact with Earth, they push forward with their mission as they see how far they are willing to go in order to learn if life does exist outside the comfort of our home planet.
Hidden Figures (2016)
And then there is the 2016 biographical drama Hidden Figures, which technically doesn't deal with the main characters going and traveling through space, but its portrayal of the female mathematicians who were instrumental in helping American astronauts leave Earth's surface in the early 1960s. Based on a true story, the Academy Award-nominated picture takes an extensive look at the ups and downs of the African American women who fought racial injustices at NASA while the space agency was fighting the Soviets in the heat of the Space Race. And plus, the performances from Taraji P. Henson, Octavia Spencer, and Janelle Monáe make Hidden Figures worth it alone.
This isn't even beginning to scratch the surface of all the great space travel movies that came out between 2010 and 2019, so let me know your favorites that might have slipped through the cracks.
Your Daily Blend of Entertainment News
Philip grew up in Louisiana (not New Orleans) before moving to St. Louis after graduating from Louisiana State University-Shreveport. When he's not writing about movies or television, Philip can be found being chased by his three kids, telling his dogs to stop yelling at the mailman, or yelling about professional wrestling to his wife. If the stars properly align, he will talk about For Love Of The Game being the best baseball movie of all time.
Your Daily Blend of Entertainment News
Thank you for signing up to CinemaBlend. You will receive a verification email shortly.
There was a problem. Please refresh the page and try again.