13 Great Horror Movies To Stream On Amazon Prime Video - October 2020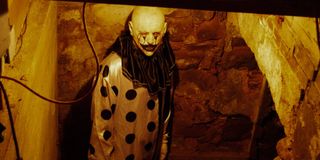 CinemaBlend participates in affiliate programs with various companies. We may earn a commission when you click on or make purchases via links.
It is around the time of the year as Halloween draws closer when those who have outgrown the usual means of celebration such as Trick 'r Treating resort to the next natural step in honoring the season: horror movie marathons. While any true fan of the genre has probably been collecting physical copies of their favorite thrillers for years, there may be even more horrors on Amazon Prime video (including traditional classics and modern masterpieces alike) which they have yet discover.
Indeed, the amount of slashers like My Bloody Valentine, hauntings like House on Haunted Hill, found footage nightmares like Grave Encounters, and more available on the digital platform is actually quite overwhelming. Just the mere thought of all the titles you would be forced to scroll through in search of the one perfect scare is enough to keep you up at night.
Because we know that anyone with an Amazon Prime subscription and taste for the terrifying would rather be kept up at night with a good horror flick, we have taken the initiative to compile our picks for only the best of the genre that the streaming service currently has to offer. The following 13 (because what better number would there be for this occasion) horror movies available on Amazon Prime Video should do the trick to creep you out in all the right places, starting with what some still consider to be the greatest vampire film of all time nearly 100 years after its release.
Nosferatu (1922)
In a time when the union between sound and film had yet to be invented, German actor Max Schreck managed to create one of the most haunting portrayals in cinematic history without speaking a word by giving the character of Count Orlok a body language that understood the uneasy rhythm of the undead and a stagnant glare that had you convinced he was looking into your soul. That almost concerning level of commitment to such a devilish role is key to the lasting influence of Nosferatu, F.W. Murnau's unauthorized attempt to adapt the 1897 novel Dracula that introduced to us a bloodsucker who is just as iconic as Bram Stoker's creation and, arguably, even scarier.
Stream Nosferatu on Amazon Prime here.
Hereditary (2018)
Writer and director Ari Aster has very quickly become one of the most prolific names in horror lately for his ability to invoke a mercilessly grim and unnerving experience with none of the traditional genre tropes, but a keen understanding of real-life tragedy and the unimaginable dread that follows. Such is the effect of his feature-length debut Hereditary, which I prefer not to describe in detail for first-time watchers, but I will confidently say that when you see the nightmarish circumstances that befall miniature sculptor Annie Graham (Toni Collette in an astonishing performance unjustly ignored by the Academy) and her family, their suffering will become your own.
Stream Hereditary on Amazon Prime here.
Midsommar (2019)
The same can be expected for Ari Aster's sophomore effort, in which a grieving college student (Florence Pugh, making her case as a new leading Scream Queen) joins her longtime boyfriend (Jack Reynor) and classmates on a trip to a rare festival in Sweden that proves not to be all sunshine and rainbows. However, that being said, the aesthetic of Midsommar is actually very bright and idyllic for much of its runtime, which makes the heartbreaking twists and guarantees of lingering devastation one of the most impressive tricks in horror cinema, as far as I am concerned.
Stream Midsommar on Amazon Prime here.
Children Of The Corn (1984)
Those who do not prefer it when their horror movies get too "real" may have a, comparatively, more relaxing time with the deranged worship and inhumane rituals from this still thrilling adaptation of a classic Stephen King story. Peter Horton and The Terminator's Linda Hamilton play a married couple who stop in a desolate town, where they encounter the titular evil of Children of the Corn: a cult of dangerously devout youths who believe all people above the age of 18 should be murdered to please their deity.
Stream Children of the Corn on Amazon Prime here.
The Cabin In The Woods (2012)
Actually, the theme of human sacrifice and ritualistic practices is also a major theme of this dark comedy from Bad Times at the El Royale director Drew Goddard, who co-wrote the screenplay with Joss Whedon, the creator of Buffy the Vampire Slayer and countless other fun favorites of nerd culture. Yet, once again, that is really all that I am willing to disclose about The Cabin in the Woods, save my own confident belief that when you find out the truth behind what terror our five young protagonists (one of which is a pre-Thor Chris Hemsworth) are in for, you will be dizzy from all the combined laughter and screaming.
Stream The Cabin the Woods on Amazon Prime here.
Starry Eyes (2014)
There will be much less laughter and far more screaming, I predict, if you choose to watch this unholy union of demonism, treacherous body horror, and wish fulfillment that helped writing and directing duo Kevin Kölsch and Dennis Widmyer eventually score the job adapting Stephen King's Pet Sematary in 2019. Alex Essoe, who plays Wendy Torrance in Doctor Sleep, gives a star-making performance in Starry Eyes as waitress who goes to unimaginable lengths to prove she has what it takes to make it as Hollywood royalty in this unforgettable gem.
Stream Starry Eyes on Amazon Prime here.
The House Of The Devil (2010)
Yet another underrated (in my opinion), '80s-inspired ode to Satanic Panic is the film that made writer and director Ti West a hero in modern indie horror and also stars Greta Gerwig in a supporting role long before she became an Oscar-nominated powerhouse behind the camera. Following a desperate college student (Jocelin Donahue) who takes the most regrettable babysitting job in history, The House of the Devil is, admittedly, a bit of slow burn, but do not be discouraged before its shocking final act sneaks up on you.
Stream The House of the Devil on Amazon Prime here.
Hell House LLC (2015)
By seeing this title immediately follow a movie called The House of the Devil, you may be surprised by the sudden lack in variety in this list. However, do not be fooled because Hell House LLC, the 2015 premier installment of Stephen Cognetti's trilogy chronicling the mysterious events surrounding a doomed haunted house attraction, is one of the finest films of the found footage horror subgenre as a meticulously crafted and thoroughly unnverving exercise in dread before its tragic conclusion.
Stream Hell House LLC on Amazon Prime here.
The Houses October Built (2014)
Speaking of haunted house attractions, that is the main topic explored in this fellow, lesser-known mockumentary gem about a group of friends in search of the ultimate scare who get their wish by paying the ultimate price. Personally, I found its 2017 sequel (which is also available to stream on Amazon Prime) to be a little underwhelming and utterly unnecessary, but fortunately, watching it does nothing to tarnish the power The House October Built - a cautionary tale that will have you thinking twice before the next time you step foot in another staged haunted house.
Stream The Houses October Built on Amazon Prime here.
Absentia (2011)
Before Mike Flanagan became one of the most trusted names in horror with 2013's Oculus and the truly haunting Netflix miniseries The Haunting of Hill House, what first proved his talent for truly scary tales was this heartbreaking drama about a young woman (Katie Parker) who learns the unbelievable truth about her brother-in-law's disappearance after moving in with her sister (Courtney Bell). Getting past the unmistakably low budget production value of Absentia (not to be confused with the unrelated Amazon original series of the same) will be effortless because it takes no time for you to become engrossed in this terrifying adult bedtime story.
Stream Absentia on Amazon Prime here.
Crawl (2019)
You could apply the "adult bedtime story" term to this recent favorite about a young woman (Kaya Scodelario) struggling to protect her father (Barry Pepper), her home, and herself from a slew of monstrous beasts. Well, in reality, Crawl is just a B-grade creature feature set during a Category 5 hurricane that sets free a group of hungry alligators, but under the direction of High Tension director Alexandre Aja, it is an endlessly fun thrill ride.
Stream Crawl on Amazon Prime here.
Bone Tomahawk (2015)
Kurt Russell is known best for putting out his most celebrated performances in horror films and westerns (particularly in The Thing and Tombstone), which are genres that often tend to be mutually exclusive. But writer and director S. Craig Zahler blends them to brutal perfection with Bone Tomahawk, in which Russell's aging sheriff, his deputy (Richard Jenkins), a slick gunslinger (Matthew Fox), and an injured farmer (Patrick Wilson) set out to rescue the latter's kidnapped wife and town doctor (Lilli Simmons) from savage cannibals in the latter days of the Old West.
Stream Bone Tomahawk on Amazon Prime here.
Night Of The Living Dead (1968)
Speaking of savage cannibals, the only thing scarier than those sadistic degenerates is flesh-eating people who are already supposed to be dead. Such describes the modern zombie, which is now a staple of the horror genre, but not until after their invention in 1968 with Night of the Living Dead, the first of the late George A. Romero's long-running franchise that exposes the dark corners of humanity through an apocalyptic lens.
Stream Night of the Living Dead on Amazon Prime here.
What do you think? Do you believe that Amazon Prime has the best horror selection of any digital streaming platform and we managed to pick out the cream of the creepy crop, or did we skip all of your favorites and only mention the ones that were a nightmare for you to get through (and not in a good way)? Let us know in the comments and be sure to check back for additional information and updates on the horror genre, as well as even more of our own recommendations of the scariest movies and TV shows available to stream right now, here on CinemaBlend.
Jason has been writing since he was able to pick up a washable marker, with which he wrote his debut illustrated children's story, later transitioning to a short-lived comic book series and (very) amateur filmmaking before finally settling on pursuing a career in writing about movies in lieu of making them. Look for his name in just about any article related to Batman.