The Actor Who Spends The Most Time Shirtless In Movies Is Not Actually Zac Efron, And I'm Shocked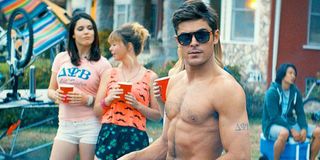 Seeing a shirtless actor in a Hollywood movie isn't all that uncommon, but there are some actors who go shirtless way more than others (cough. Zac Efron. cough). However, a recent study was undertaken to see which stars go shirtless most often in the movies, and surprisingly this time around Zac Efron was not the celebrity leading the shirtless charge on the big screen. It wasn't Dwayne "The Rock" Johnson, any of the Hemsworth brothers, John Cena, Michael B. Jordan or Matthew McConaughey either.
Stumped? In a recent study undertaken by Bingo Sites, the group found that of the nude and shirtless scenes studied, it was 007 actor Daniel Craig who wandered on beaches and in other spaces sans shirt most often. In fact Daniel Craig has spent at least 1,278 seconds of screen time basking with the warm sun on his upper half -- and that's only counting the footage that made it into the movies.
Filling out the top Top 10 are some surprising actors and some not-so-surprising actors. But I'll let you be the judge. Below are the Top 10 shirtless actors in Hollywood, per Bingo Sites, and the seconds they are seen shirtless are also listed.
A slew of other actors also made the Top 20. There was Channing Tatum, who hasn't been in a ton of cinematic endeavors over the last year, but who also is shirtless quite often to make up for it in both the Magic Mike and Step Up franchise movies. (He also recently revealed his abs are back for his latest cinematic endeavor, Dog.) Mark Ruffalo, Idris Elba, Joseph Gordon-Levitt, Jude Law, Keanu Reeves, Brad Pitt, Dwayne Johnson and more also cracked the Top 20.
As for Zac Efron? OK, the Baywatch actor didn't do too shabbily, still making a top slot in regards to going sans shirts in movies, just not when we're counting total number of seconds. While he ranked #10 in terms of seconds shirtless, as seen above, he also was #1 when it comes to the percentage of movies he's been shirtless in. In fact, he's taken off his top in 50% of the flicks analyzed. So, my early guess that he'd top the list was not absolutely wrong, even if it wasn't right either.
In the case of percentages, Jason Momoa came in second, going shirtless in 38.5% of his movie projects. I wonder, though, if TV had been added in, if that percentage would be higher? Momoa too was in a Baywatch show, Hawaii, back in the day, after all.
At the end of the day, whether shirtless or not, there's a fine class of actors on this list, actors who have put time and toil both into their craft but also their physique. We can't wait to see what they do next. In the meantime, I gotta ask: Were there any surprises for you on the list?
Your Daily Blend of Entertainment News
Reality TV fan with a pinch of Disney fairy dust thrown in. Theme park junkie. If you've created a rom-com I've probably watched it.
Your Daily Blend of Entertainment News
Thank you for signing up to CinemaBlend. You will receive a verification email shortly.
There was a problem. Please refresh the page and try again.