Upcoming Jennifer Aniston Movies And TV Shows: What's Ahead For The Friends Star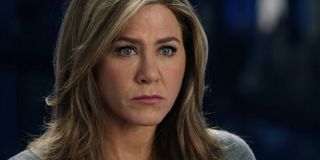 Whether you know her best from her years on NBC's Friends, her various big-screen titles like Bruce Almighty, Office Space, We're the Millers, Along Came Polly, The Break-Up, and The Good Girl, to only name a few, or her various tabloid appearances, there's a good chance that you're familiar with Jennifer Aniston. The film-TV actress is no stranger to the media, and while her career has seen its peaks and valleys, she has remained a consistent media presence, which continues with her work in AppleTV+'s The Morning Show.
In addition to that new series, Jennifer Aniston has a variety of movie and TV projects on the way, including some more Netflix movies, a potential Murder Mystery sequel, and an HBO Max Friends reunion special. If you love Aniston, here's what you can look forward to seeing in the not-too-distant future.
The Morning Show Season 2 - TBA 2021 (Filming)
Around this time last year, Jennifer Aniston made her return to television with the first season of AppleTV+'s The Morning Show. The Emmy-winning drama series, which also stars Reese Witherspoon, Steve Carell, Mark Duplass, and Billy Crudup, started Apple's streaming service off with a bang, at least when it comes to such a high-profile launching point. The series garnered generally positive reviews and it earned enough of a following that there was no surprise that the show would gain another season. However, after production began in earnest back in February, production was eventually shut down in mid-March due to the COVID-19 pandemic. Filming ultimately resumed on October 19th, and it's expected to return sometime in the next few months. The new season was expected to premiere this November as well, prior to its production delay.
The first season took about seven months total to film, and it's not yet known if it'll take this new season quite so long. If it's expected to continue through the next few months, however, we shouldn't expect to see Season 2's premiere until Summer 2021 at the earliest. But nothing is confirmed.
Hail Mary - Pre-Production (TBA)
Through shows like Breaking Bad, Game of Thrones, Better Call Saul, The Walking Dead, and The Deuce, to only name a few, director Michelle MacLaren has showcased her exceptional skill behind the camera through a number of exciting projects. Alas, she hasn't yet transitioned into the big screen. There were times when she got close, notably including an early rendition of Wonder Woman and an adaptation of Cowboy Ninja Viking which was stalled, but she might soon be helming her first feature with Hail Mary, a biographical drama which tells the story of a former Miss USA contestant who transitions into becoming a successful sports manager.
Jennifer Aniston is signed on to play Denise White, the center focus of the upcoming film, and she'll work from a screenplay penned by Oscar-nominated screenwriter Melisa Wallack (Dallas Buyers Club). Details regarding the project remain limited otherwise, though it's believed that the film entered pre-production starting last year. When the project will come into fruition remains to be seen, but here's hoping that MacLaren finally gets to helm a film that's worthy of her demonstrated talents. She also previously worked with Aniston on The Morning Show.
First Ladies - Announced (TBA)
As it was announced and projected, we'll soon be ushering in the first woman Vice President into the White House with Senator Kamala Harris. In the midst of a changing political landscape, it would seem that the new Netflix comedy, First Ladies, should make its debut on the streaming service sooner rather than later to appeal to this changing time period. This streaming title has been in-the-works for some time, though it hasn't been in any clear development ever since its initial announcement. The screenplay comes from Tig Notaro and Stephanie Allynne, with Notaro also on board to play Aniston's character's wife. Adam McKay and Will Ferrell were attached as producers.
No other developments or updates have been found since this news release from 2018 — though, as I said, it seems more relevant now than it did then, and that might hopefully spark the fire that gets this project in motion. But with COVID-related delays, it's ultimately hard to say.
Murder Mystery 2 - Announced (TBA)
Reuniting with her Just Go With It co-star Adam Sandler, Netflix's Murder Mystery proved to be an unlikely success for both Sandler and Aniston, resulting in not only one of their most popular movies in the past few years but one of the most popular movies on the world-famous site — comedy or otherwise. While Sandler is already on contract with the site, which will bankroll his steady stream of juvenile comedies for the long-term future, the actress might soon reunite with Sandler once more for Murder Mystery 2, which is reportedly in the works over the streaming service as of last year.
Both Adam Sandler and Jennifer Aniston are in negotiations to return, and so is James Vanderbilt, who wrote the screenplay for the original movie. It's unclear if director Kyle Newacheck would also come back to helm this proposed sequel, though developments remain early on this comedy follow-up. If more details come to light, we'll keep you posted.
Untitled Jennifer Aniston/Sophie Goodhart Project - TBA (Announced)
While Jennifer Aniston has been transitioning into streaming content, both through television and film, she isn't planning to leave the big screen behind just yet. Through STX Films, she's signed on to star in an upcoming, still-untitled new R-rated comedy that would follow an overscheduled and over-burdened suburban couple who will go to great lengths in order to recapture their the lost playfulness of their youth. The movie would be written and directed by Sophie Goodhart.
While Sophie Goodhart isn't a household name like Jennifer Aniston, the writer/director has demonstrated her talents in a couple of recent projects, including 2016's appealing dark comedy, My Blind Brother, as well as Netflix's Sex Education. The last developments for this project were back in 2017, so this one might not be chugging along anymore. It's easy to see how this premise was inspired by the surprise commercial and critical success of Bad Moms, though its lukewarm sequel, A Bad Moms Christmas, underperformed at the box office after this announcement was made, thus potentially putting a hold on projects like this one.
Friends Reunion Special - TBA (Announced)
From 1994 through 2004, Jennifer Aniston wasn't merely seen in NBC's long-running sitcom, Friends. No, the enormously popular, syndication-friendly NYC-based sitcom, which followed six friends most of whom live in the same apartment building, turned the actress from a still up-and-coming performer (sorry Leprechaun) to one of the most famous actresses of the '00s. And it also helped her co-stars, Courteney Cox, Matt LeBlanc, Matthew Perry, David Schwimmer, and Lisa Kudrow, find their own successes along the way, though it's safe to say that few of these performers made it as big as Aniston.
Nevertheless, as it is nearly thirty years since the show first premiered, and nearly 20 years since it stopped airing new episodes (let's be real, the show is never really going to "leave" television so long as reruns are still a thing), HBO Max announced that they're going to host a Friends reunion special on their service, which will allow the actors to reflect back on the show's legacy, their favorite moments, their nostalgic reflections, and the ways the show has changed their lives forever. And they're all getting a lot of moolah for their involvement.
This special was once set to be recorded this year, though it appears to be delayed due to the pandemic. It's unclear when the former cast members are expected to reunite for this streaming special, but it's expected to come out sometime next year.
The Goree Girls - TBA (Announced)
Admittedly, The Goree Girls haven't had an easy road to the stage, and it's hard to know if this music-based biopic is actually going to come together in any immediate future. The project has been in the works for a few years now, with few-to-any developments, and the last announcement was made back in 2016 when it was insisted by Red Online that the movie was still coming together. Evidently, it's still a while away, to say the least.
The closest the project came to fruition was back in 2009 when Michael Sucsy (2012's The Vow) was attached to direct and Aniston was signed on to star alongside Ellen Pompeo, Sandra Oh, and Kelly Rowland. But this version fell through, and it's hard to know if this band will ever come back together for their time in the spotlight. Nevertheless, this cinematic portrayal of the Goree All-Girl String Band, one of the first all-female country groups to hit the big time back in the 1940s, appears to be a passion project for Aniston. It's looking less likely than before, but it's not dead yet, it seems.
Which upcoming Jennifer Aniston project are you most looking forward to seeing? Let us know in the comment section!
Your Daily Blend of Entertainment News
Will is an entertainment writer based in Pittsburgh, PA. His writing can also be found in The Playlist, Cut Print Film, We Got This Covered, The Young Folks, Slate and other outlets. He also co-hosts the weekly film/TV podcast Cinemaholics with Jon Negroni and he likes to think he's a professional Garfield enthusiast.