Where You've Seen The Godmothered Cast Before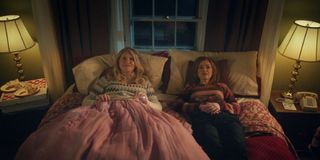 Godmothered is the latest Disney+ original movie. It stars Isla Fisher and Jillian Bell, and the film finally gives Godmothers their time to shine. Godmothered follows Eleanor (Bell), a Fairy Godmother in training who seeks out a young girl who wrote to the Motherland years ago. Eleanor is surprised to find that MacKenzie (Fisher) is now an adult and a single mother. She also doesn't believe in fairytales and happy endings anymore. Godmothered is a sugary sweet film that's perfect for this time of year. The Godmothered cast makes this film even better.
The Godmothered cast is full of recognizable names, some TV and film legends, and a few newcomers with seemingly bright futures. Most of the cast of this film, you've probably seen in other movies and TV shows, but you might be struggling to remember where you exactly saw them. Here's where you've seen the Godmothered cast before.
Jillian Bell (Eleanor)
Eleanor has a heart of gold, but a little naive when it comes to how the real world works. Her child-like innocence allows her to leave a little bit of chaos and whimsy everywhere she goes. Jillian Bell is best known for her role as Jillian in Workaholics. She also appeared in the series Archer, Room 104, Bless the Harts, Drunk History, Bob Burgers, Eastbound & Down, and Curb Your Enthusiasm.
Recently, Bell played Dr. Taylor Wood in Bill & Ted Face the Music. She also received critical acclaim starring in Brittany Runs a Marathon. Bell also reunited with her Workaholics cast in Game Over, Man! She's also appeared in the films Rough Night, Fist Fight, and Office Christmas Party. Jillian Bell has also appeared in these popular movies: The Angry Birds Movie, The Night Before, Goosebumps, Inherent Vice, 22 Jump Street, and Bridesmaids.
Isla Fisher (MacKenzie Walsh)
MacKenzie wrote to the Motherland as a child. She wrote about wanting to be with the cute boy in her school. Now as an adult, magic hasn't been a big part of her life. MacKenzie is more focused on raising her two girls and keeping her job. Isla Fisher is probably best known for her role as Gloria in Wedding Crashers.
She also appeared in one of the most underrated romantic comedies, Definitely, Maybe. Fisher also appeared in the adaptation of the popular book series Confessions of a Shopaholic. She also appeared in The Great Gatsby, Now You See Me, Nocturnal Animals, The Beach Bum, and Tag. Isla Fisher also had recurring guest roles on Arrested Development and appeared on the popular Australian soap opera Home and Away. You also can spot her on episodes of Angie Tribeca, Curb Your Enthusiasm, and Da Ali G Show.
Santiago Cabrera (Hugh Prince)
Hugh Prince is one of MacKenzie's co-workers. He's an anchor on the news program, but unlike the other anchors, he actually cares about the news that he presents to the world. He's also Mackenzie's romantic love interest. Santiago Cabrera has had supporting roles in Haven, Love and Other Disasters, Che, Transformers: The Last Knight, and Netflix's original movie What Happened to Monday.
Fans of Heroes may remember him as Isaac Mendez in the first season. He also played Lancelot in the BBC's Merlin. Santiago Cabrera also played Sal Price in Dexter, and he currently has a main role as Cristóbal Rios in Star Trek: Picard.
Mary Elizabeth Ellis (Paula Walsh)
Paula is MacKenzie's sister, and she is often seen babysitting Jane (Jillian Shea Spaeder) and Mia (Willa Skye). She doesn't quite know what's going on but goes along with it. Mary Elizabeth Ellis is best known for her role as The Waitress on It's Always Sunny in Philadelphia. Ellis has also appeared on Reno 911!, House, Drunk History, Happy Endings, Brooklyn Nine-Nine, and The Cool Kids.
Mary Elizabeth Ellis appeared in multiple episodes of New Girl as Caroline. She was a series regular on two canceled-too-soon series: The Grinder and Santa Clarita Diet. Ellis also appeared in the films Free State of Jones, Masterminds, and The Truth About Lies.
June Squibb (Agnes)
Agnes is the cool Fairy Godmother often playing tunes for the Motherland. She helps Eleanor, despite being told not to help her. June Squibb is best known for her role in Nebraska. It earned her a 2014 Oscar nomination. She also appeared in the films Alice, Scent of a Woman, In & Out, Meet Joe Black, and Far From Heaven.
June Squibb's recent movie credits have included Other People, Father Figures, Toy Story 4, Palm Springs, Hubie Halloween, and Soul. She also appeared in episodes of ER, Just Shoot Me! House, Law & Order, The Bernie Mac Show, and Bones. June Squibb appeared in multiple episodes of Good Girls, Shameless, Modern Family, The Young and the Restless, and Ghost Whisperer.
Jane Curtin (Moira)
Moira is head of the Motherland. She's more into the traditional way of doing things, which isn't helping keep theFairy Godmother population alive. Jane Curtin is best known for being an original member of the Saturday Night Live lineup. She also played Dr. Albright on 3rd Rock from the Sun. Her other TV credits include The Librarians, The Good Wife, Broad City, and Kate & Allie.
Jane Curtin's film credits include Coneheads, Antz, The Shaggy Dog, I Love You, Man, The Heat, and Oscar-nominated Can You Ever Forgive Me?
Utkarsh Ambudkar (Grant)
Grant is in charge of the news station where MacKenzie works. His main goal is to be four out of the five stations. He's all for stories that get the station's name out there, even if they are sensationalized topics. Utkarsh Ambudkar appeared in the film Pitch Perfect as Donald. He also appeared in the films Ride Along 2, Barbershop: The Next Cut, Blindspotting, Brittany Runs a Marathon (with Godmothered co-star Jillian Bell), Game Over, Man! (also with Bell), and The Broken Hearts Gallery.
You may have also seen Ambudkar's name mentioned in the cast for upcoming movies Marry Me and Free Guy. He has also appeared in the TV series The Mindy Project, The Simpsons, The Muppets, Brockmire, and Mira, Royal Detective. Utkarsh Ambudkar is a rapper who goes by UTK the INC. He has released a couple of albums, including Petty.
Stephnie Weir (Barb)
Stephnie Weir gives another hilarious performance as Barb, one of the main anchors. She's also a huge fan of tanning. Most people recognize Weir for being part of the Mad TV cast. She has also appeared in the films Fun with Dick and Jane, Fist Fight, and Room for Rent.
Weir's TV credits include King of the Hill, Joey, Weeds, Modern Family, Key & Peele, and Castle. She had a recurring role as Karen on Crazy Ex-Girlfriend and on The Goldbergs as Karen English. She also appeared in the short-lived series Happy Together.
Jillian Shea Spaeder (Jane Walsh)
Jane is the eldest daughter of MacKenzie. She aspires to sing but gets stage fright. Eleanor helps Jane overcome this fear and find her voice. At only 18, Jillian Shea Spaeder is relatively new to the world of acting. She appeared in Walk the Prank, Just Roll With It, To The Beat! Back 2 School, Nicky, Ricky, Dicky, & Dawn, and OMG!
Jillian Shea Spaeder also appeared in an episode of the Netflix canceled-too-soon series No Good Nick.
Willa Skye (Mia Walsh)
Mia is MacKenzie's younger daughter and up for some good magic. Willa Skye is also new to the acting world, so only appeared in a few things: Divorce School and Lazy Susan.
Artemis Pebdani (Duff)
Duff is a camerawoman and often works with MacKenzie and Hugh. It's Always Sunny in Philadelphia fans will recognize Artemis Pebdani for her role as Artemis in the series--friend to the gang and Frank (Danny DeVito)'s sometimes bang buddy. Pebdani has appeared in the films Sex Tape, Rainbow Time, and Dude.
She also has appeared on the series Ugly Betty, House, Modern Family, How I Met Your Mother, Drunk History, and Another Period. Artemis Pebdani has had recurring roles on Scandal, Master of Sex, The Cool Kids, and Future Man.
Sonia Manzano (Opal)
Opal only appears in one scene in Godmothered. She's one of the Fairy Godmothers taking lessons from Moira. She doesn't speak but has some funny prop interactions. Sonia Manzano is best known for playing Maria on Sesame Street. She played her from 1971 to 2015. She is also a successful author and Broadway performer.
Manzano has also had a recurring role on Law and Order: Special Victims Unit as Judge Pepitone.
Carlease Burke (Greta)
Greta also appears in the Fairy Godmother class scene. She's very vocal about not believing that the Motherland will survive. Carlease Burke has played a nurse, officer, or paramedic in many shows, including Doogie Howser, M.D., Days of Our Lives, Roseanne, Chicago Hope, and Knots Landing. She also appeared in the films Why Do Fools Fall in Love, The Terminal, Jumanji: Welcome to the Jungle, and Child's Play.
Carlease Burke has appeared in multiple episodes of Dave, The Middle, Crowded, Baller, NCIS, Switched at Birth, and Shameless.
Godmothered is a very sweet movie all about reinventing the idea of fairytales and happily ever after. If you enjoy a unique twist on fairy godmothering, then you may enjoy Godmothered. It's currently available on Disney+. Stream it here.
Your Daily Blend of Entertainment News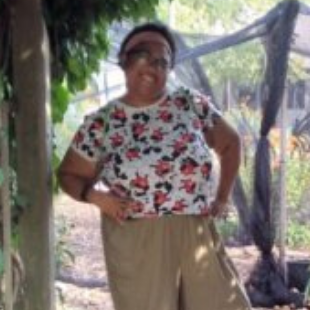 Spent most of my life in various parts of Illinois, including attending college in Evanston. I have been a life long lover of pop culture, especially television, turned that passion into writing about all things entertainment related. When I'm not writing about pop culture, I can be found channeling Gordon Ramsay by kicking people out the kitchen.